Life Makeover Mod APK is an anime-style makeover game. Also known as Kirameki Paradise, this game delights stylish gamers, drawing users into its vivid world with beautiful 3D avatars. Users can customize it according to their preferences. This game is similar in gameplay to The Sims Mod APK
How to Download Life Makeover Mod APK
PlayMods has prepared the download link of this game for players. Of course, PlayMods will also provide players with a cracked version of this game as soon as possible, so that players can have a better gaming experience: Life Makeover Mod APK
So what's so great about this game? Next, I will list the advantages of this game for players.
A large number of items can be freely matched
With an incredible amount of fashion options at Life Makeover, you can choose from a variety of styles for you to mix and match. Although there are restrictions on the matching of clothes, hairstyles, and accessories, each piece is very detailed. Novices start with a small wardrobe, but by participating in events, PvP, and beating through the main story, their wardrobe will grow exponentially to accommodate many different styles. Once an outfit is assembled, players can take pictures of their avatars using various poses, backgrounds, and filters similar to popular SNS like Instagram and Snapchat. These photos can be shared with your friends on your social media apps and rewarded with diamonds in the process.
Create your fashion brand
Imitation is not a form of flattery in Life Makeover, and the developers kept that in mind when designing a way to allow players to design their modes. With enough progress, any player can unlock the ability to incorporate their aesthetic into the game itself. By consuming materials obtained in the game, players can create personal designs using base templates with their style, such as adjusting the hem of a dress or adding a belt to a cute skirt. Even the fabric of the clothes can be adjusted, and it is intuitively reflected in the game, which shows how devoted Life Makeover is to fashion. And if that wasn't enough, the ability to generate your custom patterns is sure to convince you!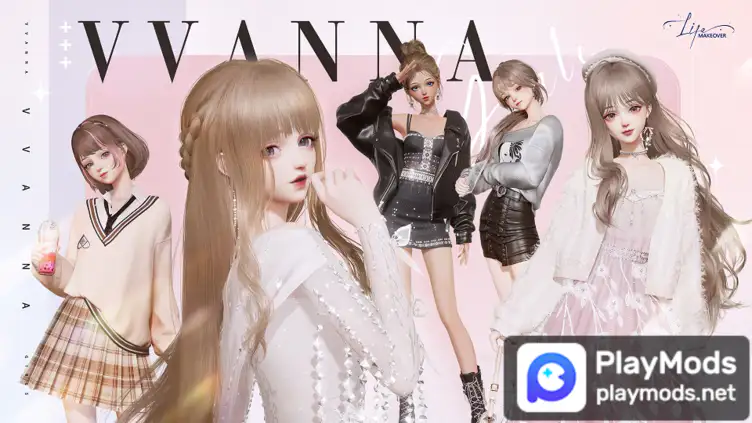 Become a world-renowned fashion designer
In Life Makeover, players will play VVANNA's fashion blogger and accompany her sister Ashley to a meeting with the famous idol group Black Sugar. While the sisters' lives seem peaceful, Ashley's work as a private eye throws both siblings into a mystery when members of Brown Sugar discover their clothes destroyed and the culprit nowhere to be found. Taking the opportunity to help the idol group, you will assist Ashley in her investigation, setting off a chain of events that hints at bigger problems on the horizon. The main and side stories are known for constructing interactive scenes using real-time 2D and CG imagery. At the time of writing, Life Makeover also features an English dub, but there have been a few instances where dialogue and voice acting don't match, and translations are a bit spotty. But that's probably mostly due to the earlier version provided for this review.
Invite friends to your decorating home
Life Makeover allows players to build their paradise using their house system. By completing daily quests and participating in Spokesperson events, players can earn chestnuts, which can be used to place housing infrastructure or buy furniture. The game divides the residential area into four floors and a yard, giving users enough space to experiment with possible layouts. Decorating a house is great, but what about living in it? Life Makeover takes interactivity to a level not seen in most mobile games, as avatars can interact with their surroundings. From cooking, swimming in the pool, or even taking a nap, Life Makeover even incorporates a gauge that measures hunger and cleanliness to simulate a real environment that can be shared on social media.
Overall this is a very fun simulation game, if you want to try other games of this type, you can try Shining Nikki Mod Apk
Search playmods for more mod games: www.playmods.net