About WorldCraft 3D Block Craft
WorldCraft 3D Block Craft is a Steam voxel sandbox survival game where players embark on an adventure in a vast and mysterious three-dimensional block world. In this world, players can hunt and tame ancient dinosaurs, magical creatures, and even alien life forms, unlock recipes, and create high-tech or magical tools. In the world of WorldCraft 3D Block Craft, you can ride a tyrannosaurus rex, wave a magic wand to fight against alien invaders, dance with wolves in the tundra, or explore the sky by riding a ghost dragon...with enough imagination, There are infinite possibilities.
How to Download the Latest Version of WorldCraft 3D Block Craft Mod APK
PlayMods provides players with the download link of this game, click on the link to download the latest version of the game: WorldCraft 3D Block Craft Mod APK
The grass is growing and the warbler is flying, and spring is returning to the earth. The steam pixel sandbox game WorldCraft 3D Block Craft also ushered in the annual "St. Patrick's Day" version. This unique festival has been authentically displayed in the world of WorldCraft 3D Block Craft. Players can put on green hats, hold festive ribbons, set up balloon arches, and welcome a green carnival.
What's new
During the St. Patrick's Day event, players can plant clover and rare four-leaf clover in WorldCraft 3D Block Craft, and exchange various rich and interesting festive rewards at the festive leprechaun booth.
New Gameplay
In the game, players can ride a Velociraptor or Pterosaur to collect common grass and have a chance to get clover seeds. After planting, you can harvest clover, and there is a chance to get the rare four-leaf clover, which symbolizes luck. It's worth noting that clover seeds must be planted in tilled soil, and building a greenhouse can speed up the growing process.
After collecting a certain amount of clover, players can directly redeem various rewards at the St. Patrick's Day Goblin Booth, or exchange for a festive tree and tie a red handkerchief to pray for blessings, and have a chance to win festive costumes, four-leaf clover, cobalt organics, and other rewards. Goblin Stations can be obtained by defeating Goblins and Goblin Kings in-game or from the supply bar.

Once you have accumulated enough clover and redeemed the limited-time holiday rewards, a grand holiday celebration can begin! Players can don a green hat, don a unique Irish-inspired festive costume, and ride a dinosaur together with friends.
Players who have redeemed the "Holiday Ribbon" can also use this item to spray ribbons around to spread the festive atmosphere.
Come decorate your home for St. Patrick's Day
Of course, don't forget to decorate your own home for the holidays. Balloon arches are used to create an interesting entrance, and green furniture such as tables, chairs, beds, cabinets, flower pots, and hanging paintings are arranged indoors so that the joyful atmosphere spreads to every corner from the inside out.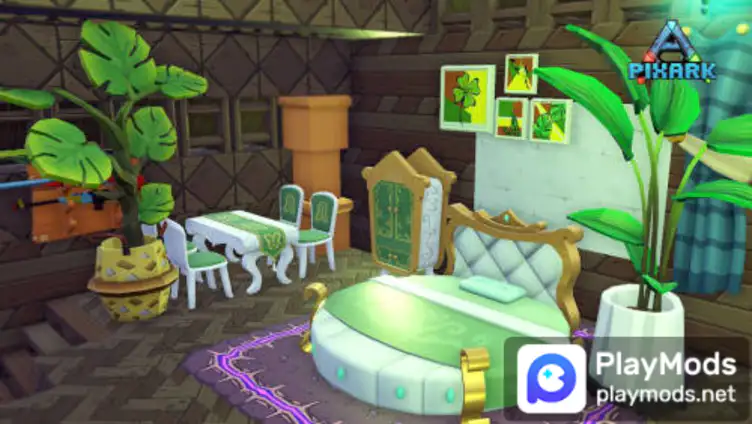 Ajustments
In addition to the content of the St. Patrick's Day holiday, the latest DLC "Water House" in the game has also made numerical adjustments to the tower defense gameplay, such as changes in the damage coefficient of specified types of creatures, the difficulty of difficulty modes, etc., to bring players a better gaming experience.
If you want to experience other games, you can try the following two games.
Search playmods for more mod games: www.playmods.net