Honor of Kings: World will prepare brand-new game content for players! New stories coming soon! The update includes many new changes, legendary bosses, underwater caves and creative maps, and more. This article will introduce players in detail!
How to Download the Latest Honor of Kings Mod APK
Click on the latest download link prepared by PlayMods for players to download the latest version: Honor of Kings Mod APK
Honor of Kings Mod APK Updates
The official game trailer has been released. This massively multiplayer online role-playing game will introduce another new and expanded game world, including a large number of fresh maps, characters, legendary bosses, and more. Players will soon have the opportunity to admire the stunning artwork of its new map and get an immersive visual experience.
1. A vast fantasy kingdom to explore
The new vast map shown in the official trailer reminds me of the open world in the Tower of Fantasy Mod APK. This MMORPG will also regularly expand its world map to enhance the player's gaming experience and bring more game fun. This brand new open world is coming online soon, and travelers will discover many new features: a futuristic city towering on a cliff at the edge of a canyon, ruins scattered across a vast plain or wild no man's land, and towering mountains and uprights. It's up to you to travel through the wilderness alone or with your friends!
2. Swim in the fascinating underwater world
Dive into an underwater space full of wonders, mysteries, and even unknown dangers. Spectacular and intricate underwater caverns and caverns hidden beneath the surface will offer players the opportunity to swim underground. Accelerate, decelerate, change direction, and more. Tap the screen to control your swimming. With simple and intuitive controls, HoK fans will have tons of fun in this realistic underwater world.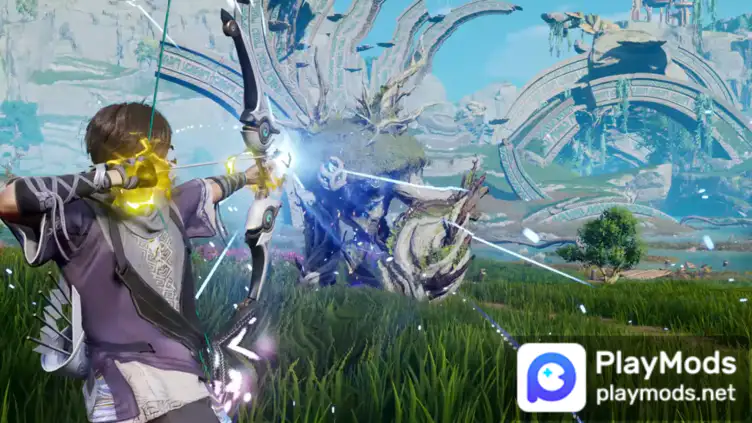 3. Glide proficiently to a safe landing
The game offers players a great way to glide like a bird, which is much more fun than normal flying! If there is a gap in the road or even no road, the player has to take a detour to reach the destination. To solve this problem, ToK developers created a flight mechanism. This newly added mechanic, which is also one of the highlights of this upcoming version, will provide mobile game lovers with a more exciting and time-saving way of smooth gliding without using any additional equipment or tools. Players have full control over direction and speed, and can even fly for miles and glide through canyons.
NOTE: Honor of Kings: World is still in development and the official trailer produced by Timi Studio Group does not show the final product!
If you like this game, then you must not miss the following two games.
Mobile Legends: Bang Bang Mod APK
League of Legends: Wild Rift Mod APK
Search playmods for more mod games: www.playmods.net