BeamNG.drive is a dynamic vehicle simulation game with soft-body physics developed and published by Bremen-based video game developer BeamNG GmbH. The game uses soft body physics to simulate realistic handling and damage to vehicles. This article will explain everything about the game to players.
How to Download Beamng Drive Mod for Free on Android Phones
At present, this game can only be played on Steam, and the mobile game version has not yet been developed, but PlayMods will definitely provide players with a cracked version as soon as the game is released on the Android phone.
How to play BeamNG.drive APK
BeamNG.drive has a variety of game modes and scenarios in addition to the free mode, such as campaign and time trial modes. A campaign is a collection of small scenarios with a specific theme (races, chases, stunts, etc.), while in a time trial, the player chooses a vehicle, level, course, and competes against his or her best time. In free roam, players can explore and experiment with levels, allowing them to manipulate, place, and manipulate objects and vehicles within the level, as well as changing environmental properties such as gravity and wind. Players can use a variety of objects, from barricades to weapons such as cannons, to deal damage to their vehicles.
BeamNG.drive Mod Key Features
1. Soft body physics system: The physics engine of BeamNG is the core of the whole game, which can bring you an original and unprecedented vehicle simulation experience. The game uses a very accurate damage model, and the feeling of vehicle collision is extremely real.
2. Vehicles: BeamNG.drive offers dozens of fully customizable and refined vehicles. Whether it's a small vehicle or a large truck, you can adjust all the maneuverable parts to create the driving experience of your dreams. Wheels, suspension, engine and more...all under your control.
3. Environment: You will have many wonderful discoveries while driving. 12 vast, scenic open worlds await you to explore, with complex terrains as diverse as the gameplay. You can test your newly tuned car on a variety of locations, from tropical jungle trails to barren deserts, city boulevards and congested highways.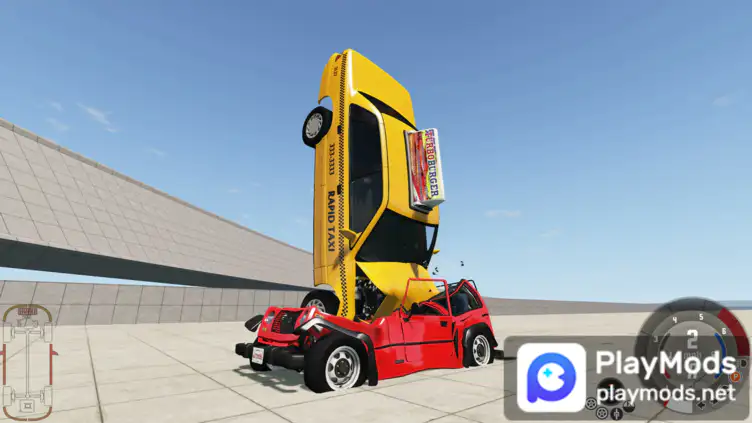 BeamNG.drive APK Game Modes
BeamNG.drive doesn't just bring you an ordinary driving simulation experience. There are also a variety of colorful gameplay options in the game, you can complete simple delivery missions, or create a complete map to test your new car.
1. Unlimited mode: Don't like the feeling of being restricted? Choose a car, go to any destination, and start exploring freely. In this game mode, experimentation is also a big focus, and you can freely manipulate objects and experiment environments. For example, you can try increasing the wind speed for a little more challenge, or changing the gravity!
2. Scenario Mode: BeamNG.drive provides a variety of different scenarios for players who like to drive vehicles. You can pursue speed and efficiency, complete truck delivery missions, or start an exciting race with police cars. Whatever the situation, the realistic physics engine immerses you fully.
3. Time Trial Mode: Choose a vehicle, environment and route to test your driving skills! Hone your technique and challenge yourself to set the best time ever.
If you want to prioritize some great driving sims, here are three games you can download first.
Car Parking Multiplayer Mod Apk
Mega Car Crash Simulator Mod Apk
Search playmods for more mod games: www.playmods.net