Clash of Clans is a casual strategy game. Bearded barbarians, flame-wielding mages, and other unique troops await! This article will introduce players to the game event schedule and rewards for this game in August 2023.
How to Download Latest Version of Clash of Clans Mod APK
Click on the link to download the latest version of the game and experience the unlimited money version of the game: Clash of Clans Mod APK Download
Clash of Clans Latest Event Schedule
The August 2023 Clan Games will begin on August 22, 2023 and end on August 28, 2023. However, unlike the July Clan Campaign, players can now earn up to 5,000 points individually. To unlock additional rewards, players will still need to accumulate at least 4,000 points as usual.
Clash of Clans Latest Points Rewards
Each new month of Clash of Clans brings anticipation for what rewards will be on offer, so let's take a closer look at what's in store for Clash of Clans participants in August 2023.
The unique seven-level system returns, and when the points reach 75,000 points, you can enter the last level. Comparing to the previous 50,000 point system, reaching the final level will require some adjustments, as you can now earn an additional 25,000 points. If your team consists of fewer than 15 active members and each contributes 5000 points, it will be challenging to earn the final level rewards.
In a clan game, each participant who completes at least one challenge can choose a reward from each reward tier his clan earns. The distribution of rewards is well thought out and excellent, with different rewards and bonuses that are especially beneficial for players who don't participate in raids very often. Players have the opportunity to collect up to 170 gems by acquiring a large number of individual potions and the valuable Dark Elixir resource option on the fifth level. Additionally, they can also benefit from Elixir and Gold boosts if they choose the appropriate rewards from each rank. Overall, this offers a wide variety of rewards.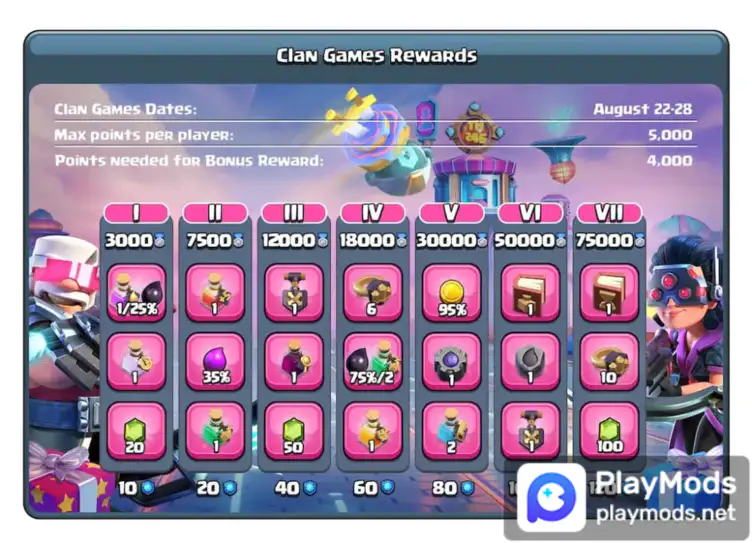 Summary
In the seven-tier system, players who have reached the highest level of city hall upgrades will be able to obtain various bonus bonuses and enhancements. Tiers 4 and 5 provide the best resources for dark elixirs and gold enhancements, along with a chance to get the builder base elixir rune. This presents players with a great opportunity to significantly increase their loot.
How to Play Clash of Clans
1. Create chaos and havoc in enemy territory with brand new graveyard spells!
2. Scare your opponents with 2 unique new defenses: Mini-Minion Hives and Reflectors!
3. Customize your own player house and earn capital trophies in the Clan Capital League!
4. Loaded with more new stuff, including explosive super miners and major upgrades to obstacle shovels!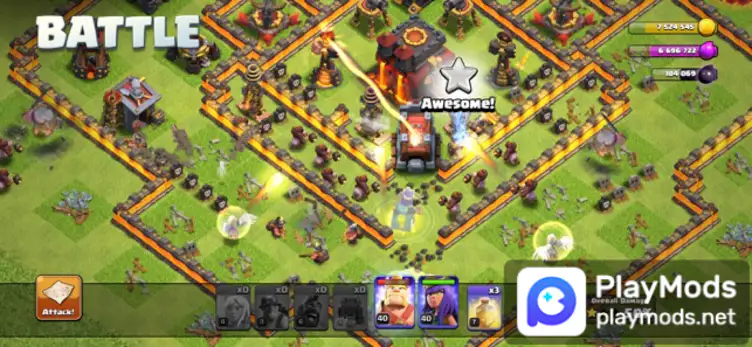 Clash of Clans Features
1. Join a clan formed by other players, or create your own and invite friends.
2. Team up with millions of active players around the world in Clash of Clans.
3. Form alliances and cooperate with your clan in clan games to win valuable magic items.
4. Use countless combinations of spells, armies and heroes to plan your unique battle strategy!
5. Collect resources and steal loot from other players to upgrade your own village and turn it into a stronghold.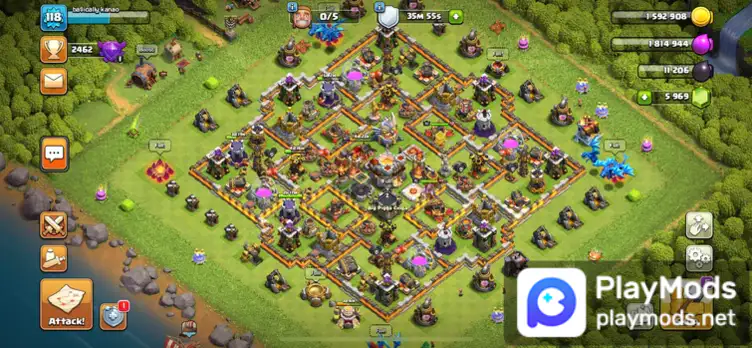 6. Defend against enemy attacks with lots of towers, cannons, bombs, traps, mortars and walls.
7. Unlock epic heroes like Barbarian King, Archer Queen, Grand Warden, Royal Champion and Battle Machine.
8. Research upgrades in your lab to make your troops, spells, and siege machines more powerful.
9. Learn new tactics and experiment with your army and clan castle troops in practice mode.
If you like this game, then you can also try the two games below.
Search playmods for more mod games: www.playmods.net