Clash Royale Mod Apk is a free strategy game developed and published by Supercell. The game combines elements of trading card games, tower defense, and MOBA. This game is the first spin-off of Clash of Clans Mod APK. Recently, the game has also been updated to the latest version. Players can check the video below to see what the updated content is.
How To Download Clash Royale Mod Apk Private Server
PlayMods provides players with a private server download of this game, and players can also enjoy cracked content in the game: Clash Royale Private Service FR Mod Apk (lots of diamonds)
Cracked Content
1. Lots of Diamonds
2. All tower skins are available
3. All emoticons are available
4. Gold coins in the game can be obtained by buying royal treasure chests with diamonds
Precautions
1. Please use the English name to avoid the situation that the game cannot be played normally
2. Entering the game login loading interface sometimes gets stuck. At this time, you can wait for a while or exit the game and then re-enter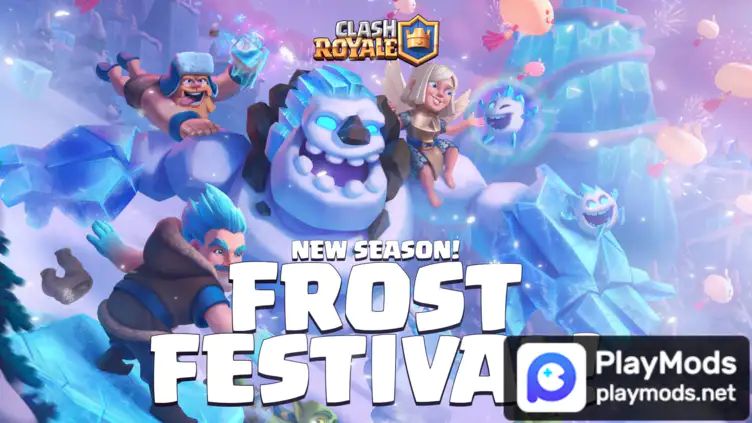 Gameplay in Clash Royale is simple and straightforward. Players will start the game with three towers: one in the middle and two on each side. Your goal is to use your troops to destroy the enemy's central tower while defending your own. Each match lasts three minutes unless there is a tie - in which case you'll get some extra time.
Clash Royale Mod Apk Features
The game is a board-like battle platform that puts you online in real-time with players from all over the world, and you will win trophies, crowns and arena glory by defeating these opponents. It sets up a treasure chest reward system, the treasure chest has gems and card rewards, and if you defeat the opponent, you will get an epic crown chest. In addition, you can also form a clan, share cards with clan members and friends, or engage in private duels to create your own battle circle. Finally, watch the best fights and learn the tactics of the best on Royal TV.
Search playmods for more mod games: www.playmods.net