Cat Spa Mod Apk is a cat-themed casual game published by Hyperbeard. In the game, players will run a spa run by cute cats that provide massage services to customers. Your goal is to increase the level of the spa and expand further to offer additional services. For example, when you start the game, you'll be offering massages to customers. As you expand and unlock hair salons, you'll be able to offer hair services.
Free Download
If you want to get rewards for free in the game, you can download the cracked version that PlayMods provides for players to get rewards without watching ads: Cat Spa (Get rewards without watching ads) Mod Apk
If you don't know how to play this game, you can continue reading this article. I'll list some tips for the game below.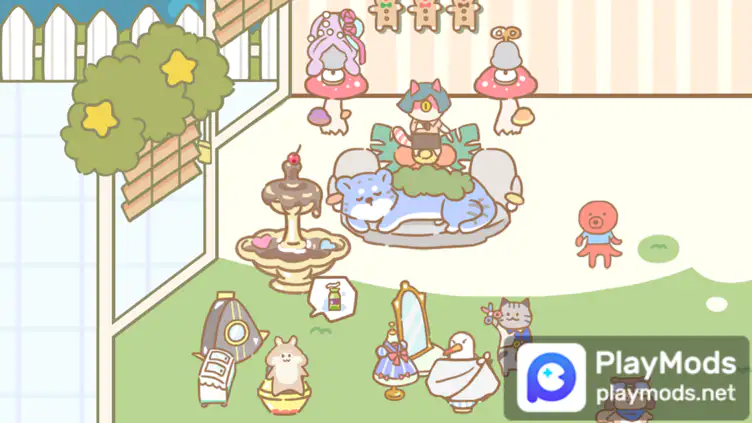 1. Keep customers coming to your spa
Even though it's just a business management game, Cat Spa is not like most business management games. Customers don't automatically go to your living room, you just have to serve them as quickly as possible. Part of what you need to do here is to advertise your massage parlor and get customers to come. There is a Promote button in the lower right corner, you need to click it 10 times to get a customer in. On the other hand, it is also important to upgrade the massage services you offer. Customers will have different massage preferences, so you need to make sure you have what they want. Another approach is to have enough resources to quickly purchase available training so your cat can be massaged.
2. Improve rating
Attracting customers to earn resources for expansions and renovations isn't the only thing you need to do. Your massage parlor will have a rating and you need to make sure to increase the rating. This is because some furniture and decorations are unlocked after you reach a certain level. In other words, they are like a rating for your store, so improving your rating is also important. Of course, there are many ways to improve your rating. One of them is to complete all daily goals. In this way, you not only get resources but also rank points. Getting your cat fairy to talk in the break room will also earn you points. Finally, unlocking achievements also earns points, which increases your score. Making sure you do these things will increase your score so you can get better furniture, items, or decorations.
3. Don't overwork your cats
Just like humans, cats need rest and relaxation. That's why your spa will have a lounge, which you can also decorate and expand. To always check if your cat needs a break, just tap on them and see its energy or happiness level. Also, you cannot use them for massage when the cat is resting. So, don't let all cats rest at the same time. Make sure there are at least 1-2 cats available for the massage. You can hire more cats so you have more healers at your disposal.
4. Install counters early
Installing the counter early is important because it allows you to accumulate more apples from customers' tips. Without a counter, they won't be able to tip. You can start with a wooden counter that can store up to 5,000 apples. But be sure to upgrade the counter so it can store more apples. This will help you quickly decorate and expand your SPA. As you expand your spa, you can offer more services.
5. What are Apples
Apples are the common currency in this game and are given to you by customers when you give them a massage or hairdresser. Click on the menu pad and a list of services will appear on the screen. Click on a service to view its prices and hours. By upgrading the skill level, players can increase the service price and earn more apples.
If you like playing cute casual games, then you must not miss the following games.
Cats & Soup - Cute idle Game Mod Apk
Search playmods for more mod games: www.playmods.net