At the end of last year, Netflix finally launched mobile games globally. What are Netflix mobile games you may ask? If you like games on mobile platforms, then you should not miss this article.
What are Netflix Mobile Games?
Netflix recently started offering games through its service that users can play on their mobile devices. You can play on your smartphone or tablet, and there are already a few different options for players to try. Of course, some games are based on the hit Netflix series. While others are not. Netflix also plans to expand its game library, with a wide variety of titles in due course.
Are there fees for Netflix mobile games?
Netflix games are currently completely free. As it stands, all the games Netflix offers are free to download. This means they are not premium games. All games are included with your Netflix membership.
Where can I get Netflix mobile games for free?
You can now find and download Netflix mobile games in PlayMods! Click the link to view the Netflix mobile game collection that PlayMods prepares for players: Netflix's best collection of games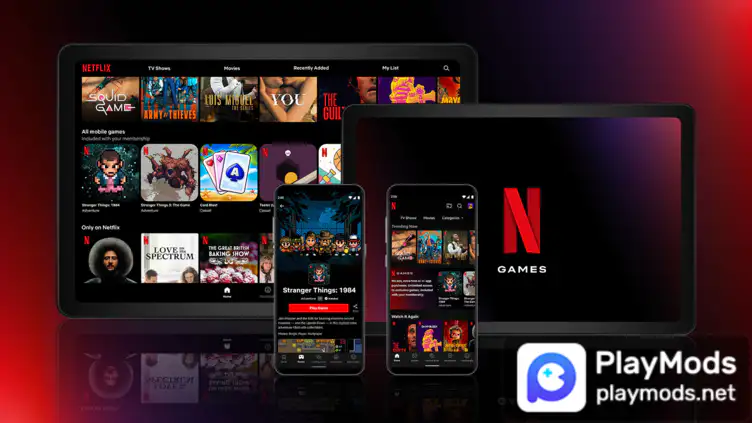 1. Arcanium: Rise of Akhan
Arcanium: Rise of Akhan Mod Apk is an open world strategy card adventure game that combines the Roguelite and Deckbuilding genres like never before. Control your team of three heroes, build your deck, unlock tons of cards and items, and save the world of Arzu from corruption!
2. Before Your Eyes
Before Your Eyes Mod Apk is a first-person narrative story where you use blink to control the emotional ups and downs and final direction of the plot. Immerse yourself in a world of memories through innovative eye-tracking technology. The whole ups and downs of life will be reproduced before your eyes.
3. Into the Breach
Into the Breach Mod Apk requires players to take control of a powerful mech from the future to fend off alien threats. In this turn-based strategy game, new challenges are randomly generated with each attempt to save the world.
4. Despot's Game
Despot's Game Mod Apk is a Roguelike strategy game with turbocharged combat. Form a team, die to the end, and crush the enemy...and other players!
5. Hextech Mayhem Netflix Edition
Hextech Mayhem Netflix Edition Mod Apk is a fast paced music beat runner game. Every action triggers an explosive reaction, not too much chaos, just more! Blast your way through the streets of Piltover as Hex Demolitionist Ziggs!
Search playmods for more mod games: www.playmods.net