Genshin Impact Mod APK brings travelers a variety of new character banners, new weapons, and new events. Here in this article, you'll find valid Genshin Impact redemption codes to claim Primogems, Mora, and many other valuable items.
Latest Genshin Impact Redeem Codes
FTRUFT7AT5SV - ten adventurer's experience, 10k Mora, five fine enhancement ore, five fried radish balls, five satisfying salads
DAQS9FPX2U35 – 60 primogems and five adventurer's experience
XBRSDNF6BP4R – 60 60 primogems and five adventurer's experience
GENSHINGIFT – 50 primogems and three hero's wit (this code works periodically)
Genshin Impact Mod APK Ver 3.2 All 3 codes
8ARAU6FNBNPV (100 Primogems & 10 Mystic Enhancement Ores)
NS8BD6EPS77Z (100 Primogems & 5 Hero's Wit)
ET9SUPENB765 (100 Primogems & 50000 Mora)
How to Redeem Genshin Impact Codes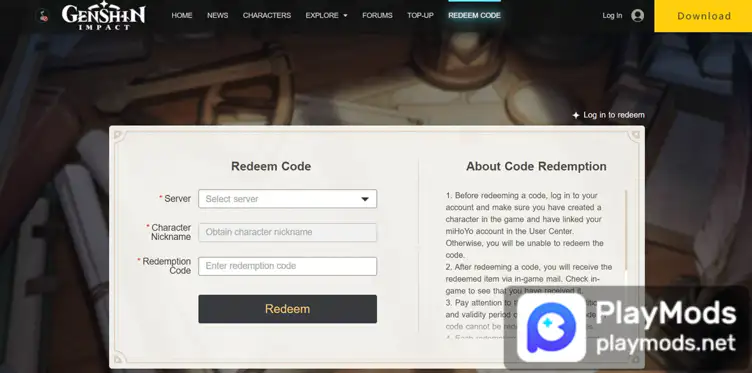 Players should note that these codes can be redeemed at least at adventure level 10. If you haven't reached level 10, it's time to complete the quest to level up.
Method 1: Click here to enter the official page for redemption.
Method 2: Redeem the code while playing Genshin Impact Mod APK. Go to "Settings" -> "Account" -> "Redeem Code". Then, enter the code in Mail and view your rewards.
If you like this game then you can also try Tower of Fantasy Mod APK
Search playmods for more mod games: www.playmods.net