Cookie Run Kingdom Mod APK is back with a new update for players! Triple Cone Cup Pt.2 is coming soon, let's take a look at the latest cookie - Kouign Amann Cookie!
How to download the latest version of Cookie Run Kingdom Mod APK
Click the download link prepared by PlayMods for players to download the latest version of the game: Cookie Run Kingdom Mod APK v4.3.002
Cookie Run Kingdom latest redemption code
CHERRY SPRING GIFT – 20-time jumpers
BRAVESPRINGGIFT – 300 rainbow cubes
HERBSPRINGGIFT – 100 EXP star jelly Lv. 5 and 100 stamina jellies
BLOSSOMING GIFT – 1,000 crystals
Cookie Run Kingdom Mod APK Update
In the last update, CRK brought players two representative cookies of the Triple Cone Cup - Capsaicin for Scovilla and Prune Juice for Parfaedia. And our newest cookie will be - Kouign-Amann Cookie, she is a three-cone cookie that stands for "Cream Knight". As the shining champion of the Order of Cream of the Triple Cone Cup, she competes with Capsaicin and Prune Juice, proving knightly honor.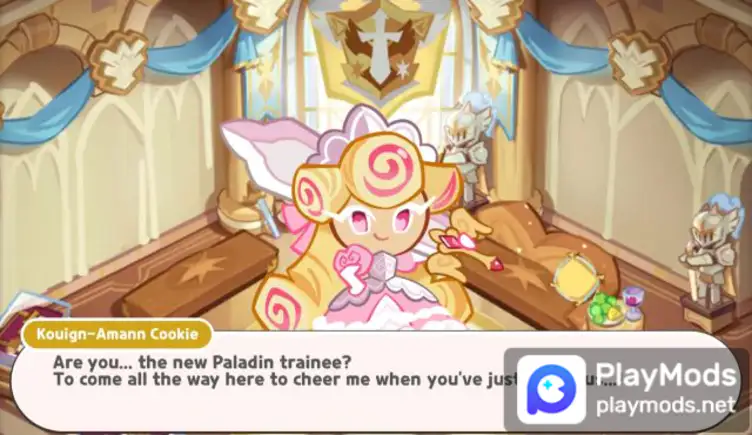 What Kouign-Amann looks like
A Kouign-Amann cookie is an elongated cookie with a light-locored dough. She has pink eyes with lighter heart-shaped irises, and each eye has a long, prominent white eyelash. She has long blonde hair that falls to the hem of her dress and is curled up in curls. Part of her hair is tied in a pink bow at the back of her head. The ends of these curls can be seen with a jam-like pink spiral inside. She wears a silver tiara that appears to be held in place in her hair like a headband.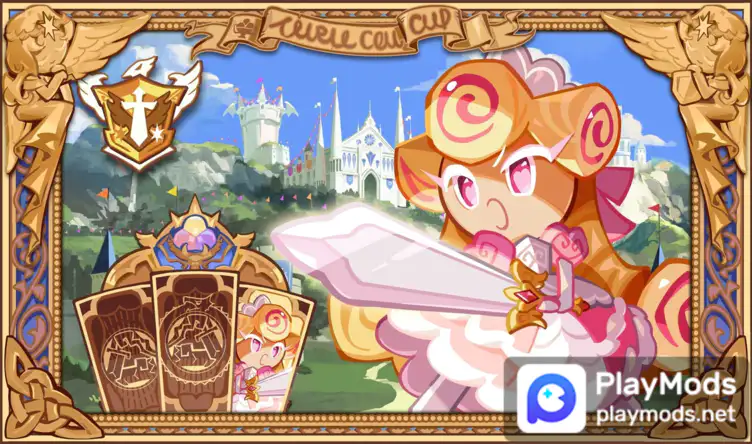 She wore a ball gown-like dress with a wide, layered skirt that stopped at her ankles. The top two layers of the dress are pink, each with a triangular slit in the middle to reveal its white underlayer. Both pink skirts had frilly white hems in a cream-like shade. The bodice of the skirt is plated with silver armor and continues to the waistline to form a short skirt. The dress has puffy pink sleeves with two heart-like curls inside each sleeve. Kouign-Amann Cookie also wears long white gloves that completely hide the silver armor on her arms and legs.
She wields a broad, single-bladed greatsword that appears taller than she is. Its leaves are very pale pink and broaden slightly outward from the stalk before curving abruptly into a bud at the tip. The hilt is a biscuit-colored yellow, with two wing-like shapes serving as its crossguards. Between these wings is set a diamond-shaped magenta gemstone, another of which serves as the hilt of the sword. Kouign-Amann Cookie is most often seen holding a sword in his left hand, resting the blunt edge of the blade against his shoulder. In battle, she wields a sword with both hands.
Kouign-Amann Cookie Character Inspiration
The Kouign-Amann Cookie is based on the pastry of the same name. Pronounced "queen-a-mahn," kouign-amann is a small Breton cake consisting of thin, swirly layers of puff pastry and salted butter and caramel icing.
Kouign-Amann Cookie Skills
Kouign-Amann Cookie's skill is called Paladin's Way. After using this skill, Kouign-Amann Cookie channels the power of light, enhancing her regular attacks: when she gains the ATK SPD buff, they deal with Light DMG and additional DMG. Kouign-Amann Cookie also increases the attack SPD of the two cookies with the highest attack speed, makes all her allies resistant to the ATK SPD debuff, and increases the light DMG inflicted by other cookies. When the skill duration expires, Kouign-Amann Cookie will gather the power of the Light and unleash a powerful attack, partially ignoring the target's DMG resistance with the sword swing. Kouign-Amann Cookie is not afraid to fail, and whenever she gains a debuff, she increases her DMG resist and normal attack ATK SPD. When Kouign-Amann Cookie uses her abilities, she briefly resists interrupt effects.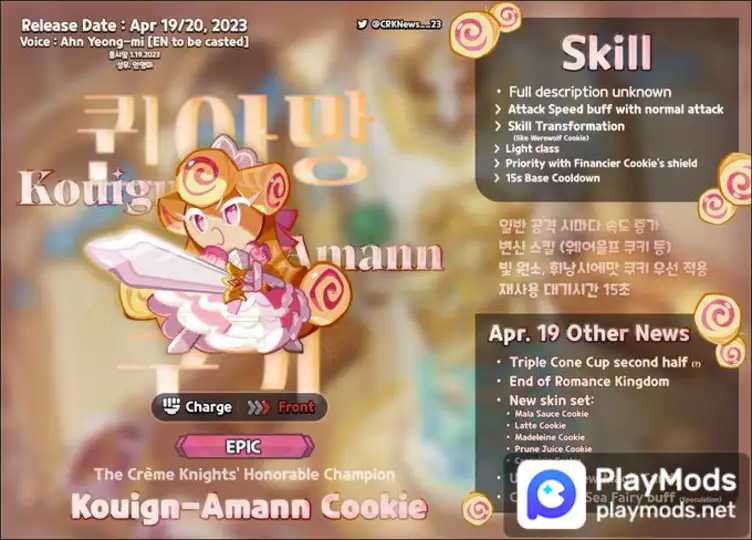 If you like this game, then you can also try Cookie Run: OvenBreak MOD APK
Search playmods for more mod games: www.playmods.net