Play Together Mod APK Download is a simulation multiplayer game. In the world of Play Together, anywhere can be your playground! Enjoy BONO BONO themed clothing and items in the upcoming Play Together Update 2023.
How to download the latest version of Play Together Mod APK
Quickly download the latest version of the game by clicking on the link: Play Together Mod APK Download
Play Together X BONO BONO
HAEGIN revealed that their social network game Play Together will be collaborating with the popular anime series BONO BONO. Thanks to the collaboration, HAEGIN has added some BONO BONO elements to their game, which allows players to earn unique items based on the series through special events and content in the game.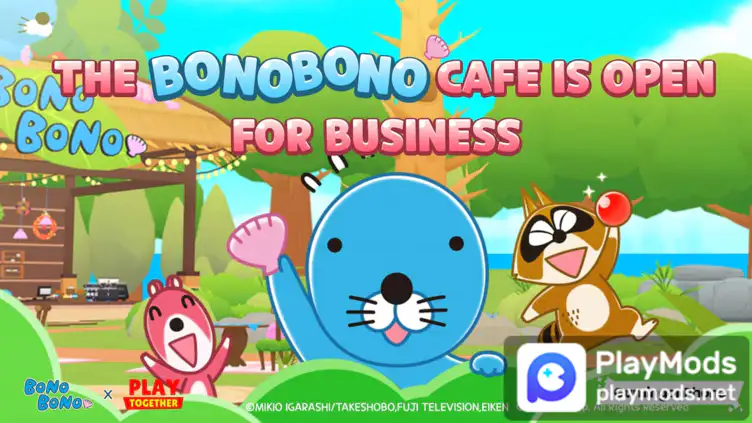 What is BONO BONO
BONO BONO is an engaging cartoon series originating in the manga format consisting of four-panel manga created by Mikio Igarashi. The show follows the daily lives of fascinating forest animals and has been serialized in its original form for 37 years. It has amassed a devoted following who appreciate its entertaining stories and insightful concepts.
What new game content does this cooperation have?
Players can enjoy BONO BONO-style food at the Bonobono Waterfront Café. Plaza Beach now features the "Bonobono Seaside Cafe," where patrons can enjoy cooking and tasting food inspired by popular characters like Bonobono, the chipmunk and the raccoon. The sweat-wicking effect of Bonobono allows diners to express how they feel after eating these dishes.
Although this cafe is known for its delicious food, it has so much more to offer. Visitors can explore the impressive statues of the characters from the show, the chipmunk's tree house, Putaway Man's Rock, Bonobono Forest Pond, and other interesting attractions. The pond is especially exciting because it's a great place to fish for shells, similar to those carried by bonobos. Many tourists are expected to be attracted by this attraction.
Celebrate the Play Together x BONO BONO collaboration with exciting events
There are approximately 60 items inspired by Bonobono and his friends. These include bonobo and raccoon costumes, chipmunk pets, accessories, large dolls, vehicles, furniture and more. You can obtain these items in different ways, such as buying them from the shop or crafting them at the Kaia Workshop. Some you can also earn through cooking or as rewards for completing quests or attending events. This provides players with a variety of options to enjoy the game.
Event date
The event started on June 22nd and will run until July 12th, with players simply logging in each day to earn virtual currency and special items based on the show. To celebrate the BONO BONO update, Play Together has launched a series of quests that offer unique rewards for players who help Bonobono and his friends at the beach cafe. In addition, there is an event called "Bonobono Attendance Event".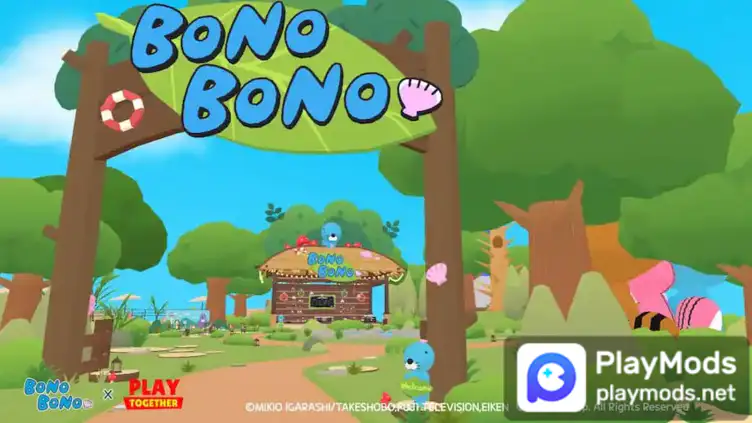 If you like this game, then you can also try Roblox Mod APK Download
Search playmods for more mod games: www.playmods.net