Eggy Go (Eggy Party) is an action-adventure battle royale game brought to players by NetEase. The game has an ultra-responsive physics engine, so get ready to have a lot of fun as you jump around to reach the finish line!
Eggy Go Official Release Date
The Eggy Go international server has not yet been officially released, but NetEase Games announced that it will launch the game for players on Android devices worldwide on April 21. The game is launching first in the Philippines, with more regions and platforms to follow. The launch will coincide with a creator recruiting event, and content creators from around the world will get early access to Eggy Party so they can interact with the game's map makers and share their designs on social media, allowing everyone to enjoy The stages they create can be played.
How to play Eggy Go
The developer is hosting a creator recruiting event. The event is open to players from around the world and invites participants to share their designs online. Recruitment is not limited to the Philippines, players from all over the world are welcome to join and showcase their innovative game designs. If you would like to participate in the event, please fill out the application form.
Eggy Party vs. Fall Guys
Egg Party, while looking similar to the Fall Guys, has some unique features of its own, most notably the characters in the game. Players are transformed into different and unique eggs, and the stages and levels in the game are also a point of difference. The only constant is the fun and chaos brought by the crazy competitive environment.
Players can set their levels and compete with friends in PvP format. Egg Builder lets players design their levels to compete with friends. Players can also take advantage of the different skill sets available in the game to gain an advantage over other players in the game.
The game as a whole has a very relaxed and interesting style, and players of any age can have fun. Random traps, flipping doors, revolving floors, and many exciting levels and arenas await players who are interested in the game.
Eggy Party vs. Stumble Guys
Stumble Guys didn't have any limited-time co-op maps until now, but that's no longer the case after Scopely announced a partnership with Hot Wheels. The collaboration introduces a new map to the map pool called Hot Wheels Hustle, complete with racing mechanics as players race around the Hot Wheels-themed track.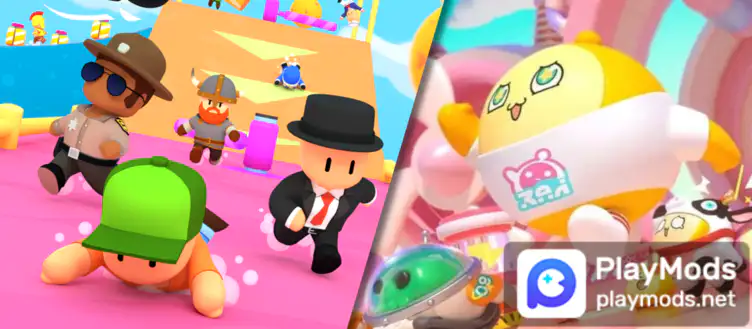 Eggy Party is essentially an eggy take on Fall Guys, as all the characters have round egg-shaped designs. Published by NetEase, the game has quickly become one of the most popular games in the country.
Next, I will list some Eggy Party features for players.
Passive skills and active skills
While Stumble Guys can only use special emotes to encourage more competitiveness, Eggy Party can already provide some very light RPG/power progression mechanics by adding passive and active skills. Six unlockable passive skills provide players with passive boosts, such as reducing the cooldown of active skills. Six active skills can be unlocked, including short-term invincibility, short-time invisibility, and becoming a bomb that detonates and damages other players after a short time.
Additional game modes and looping live event mode
Eggy Party has a lot to offer in terms of extra game modes, namely PvE options (Fall Guys and Stumble Guys are PvP only), a ranked PvP mode with a dynamic leaderboard system, and a 4v4 mode. Similar to tournaments in Stumble Guys, Eggy Party hosts two or three matches simultaneously with unique rules and mechanics.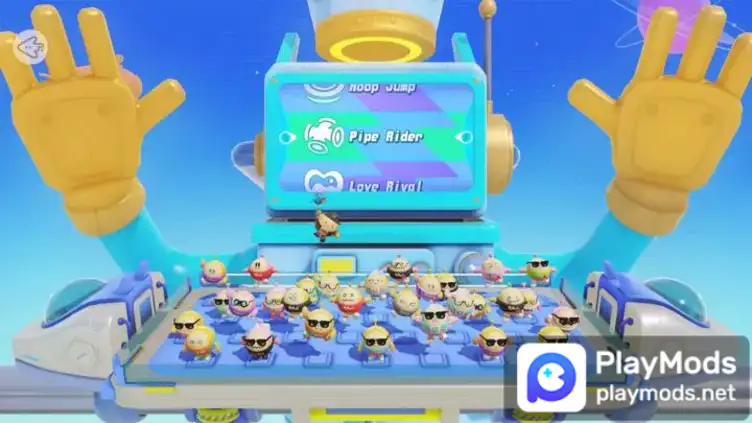 Customizable map
While Fall Guys has announced that a custom map creator is in the works, we don't know when it will arrive, and Eggy Party players can already use the game's creative mode to make their custom maps. There are many in-depth features and plenty of helpful tutorial videos to guide players through the creation process.
High emphasis on social elements
Mobile games in the Chinese market tend to use social features such as voice chat, non-competitive co-op, and relationship systems - all of which saw a 10% increase in popularity among the top 20% of games in the last year Most downloaded Chinese games.
While Eggy Party's core game loop is based on competition, several features provide a more casual, social experience. Rather than a static menu, the game's main menu is a social hub, where players can interact with each other and participate in mini-games like archery and basketball, as well as driving go-karts.
Monetization
Eggy Party's cosmetic-driven economy is the main monetization focus, especially since players can buy cosmetics and send them to their friends. Players can buy character skins, accessories, avatar frames, emotes, and dances, and adding a major social hub might motivate players to dress up their avatars and show off their outfits to other players.
In addition to purchasing cosmetics directly, they can also be obtained through Gachas, Battle Passes, Piggy Banks, limited-time IAP offers, and rewards for completing events and competitions.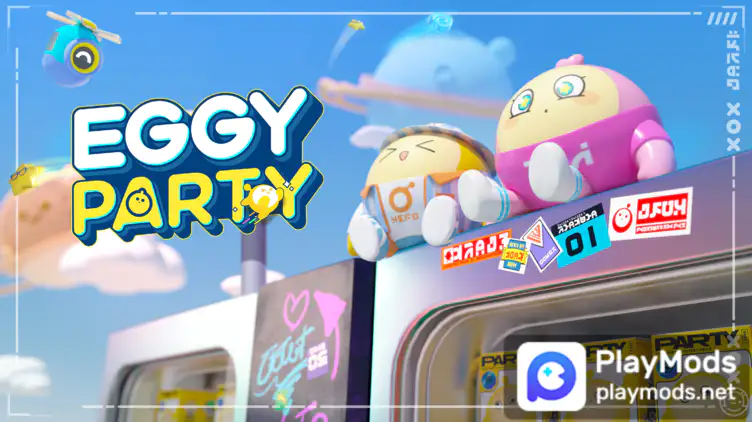 If you like this game, then you can also play the following two games first.
PK XD: Fun, friends & games Mod APK
Search playmods for more mod games: www.playmods.net