Summary of Current Matches

The 1/8 finals of the 2022 Qatar World Cup ended the last two competitions. In the first match, Morocco and Spain drew 0:0 within 120 minutes. In the subsequent penalty shootout, the Spanish team Sarabia, Soler, and Busquets all missed penalties. Morocco The team eliminated the Spanish team 0:0 (3:0 on penalty kicks), and the team advanced to the top 8 of the World Cup for the first time in team history.
In the ensuing match, Portugal beat Switzerland 6-1, with starter Gonzalo Ramos scoring three goals, Guerrero and Leo each scoring, and Akanji scoring a goal for Switzerland. The Portuguese team has successfully advanced to the quarter-finals and will face Morocco in the quarter-finals.
So far, the top 8 of the 2022 Qatar World Cup have all been produced, namely the Netherlands, Argentina, England, France, Croatia, Brazil, Morocco, and Portugal. The teams will also get a day of valuable rest time. The quarter-finals will start two days later, with the first game being Croatia against Brazil.
Schedule

The semi-finals of the World Cup will start between Brazil and Croatia, followed by the Netherlands and Argentina. The winner of the two games will enter the semi-finals. Up to now, the World Cup has ended 56 games, and 24 teams have bid farewell to Qatar.
In the upcoming semifinals, Brazil and Croatia will take the lead in the first half, and the winner will face the winner between the Netherlands and Argentina in the semifinals to compete for a place in the final. If Brazil and Argentina pass through the barriers smoothly, the upper half will become the decisive battle in South America. In the second half, Portugal faced the dark horse Morocco, and Britain and France were the last to play. The winners of the two games will compete for another place in the final. If Portugal knocks out Morocco, the bottom half will be the pinnacle of Europe.
It is worth mentioning that from the quarter-finals to the semi-finals, to the third/fourth finals and finals, there are only 8 games left in this World Cup.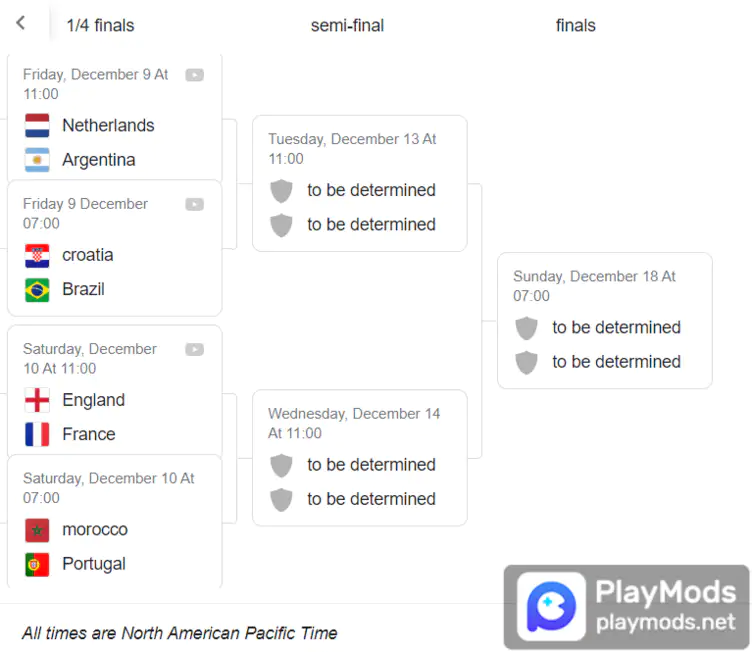 Let us look forward to the next game together, and then I will recommend several popular football games for players.
FIFA Mobile: FIFA World Cup Mod Apk (Mod Menu)
Football Manager 2023 Mobile Apk (All)
Search playmods for more mod games: www.playmods.net