Endless Nightmare Mod APK is a narrative-oriented 3D realistic horror puzzle game. The game mainly tests the logical reasoning ability, integrates the fragmented story clues, and brings players a different game experience with the horror atmosphere and interlocking plots. You play as a police detective named James, whose wife and daughter were murdered in their home. In the process of pursuing the truth, some terrible things happened in the eerie villa, which will be an endless nightmare for James.
How to Download Endless Nightmare 5 Mod APK
Click on the download link that PlayMods prepared for players to quickly download this game: Endless Nightmare 5 Mod APK
Endless Nightmare Mod APK Background Story
Endless Nightmare Mod APK takes place in a villa in the Canadian suburbs. After James' wife and daughter were killed, he locked himself at home, and he was bound to find out who killed his relatives. On this day, James fell asleep due to exhaustion. At 22:00 at night, he was awakened by the alarm clock. When he went to investigate the crime scene, strange things happened. Documents were scattered all over the place, the locked door, strange cries, and a terrifying woman, waiting for him would be an endless nightmare...
How to Play Endless Nightmare Mod APK
In the game, the player will play the game from the first perspective. You need to play the policeman James, looking for clues in the house, breaking through layers of fog, finding the murderer who killed his wife and daughter, and unlocking different endings. This seemingly ordinary villa is not simple, there are hidden murderous intentions everywhere, while looking for clues, pay attention to the danger hidden in the dark, the most important thing is to survive first!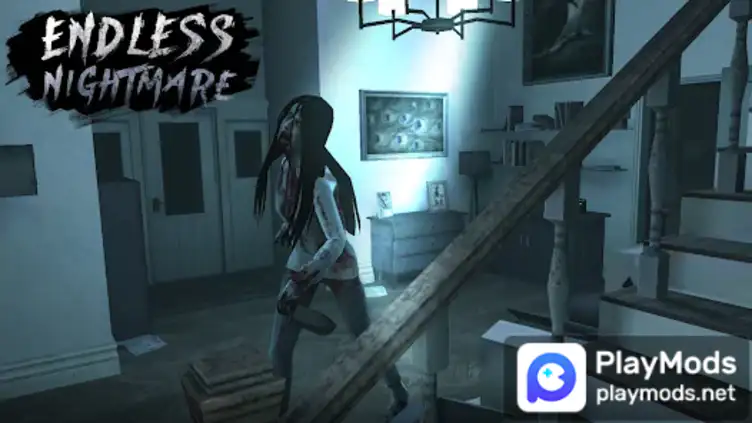 1. Investigation: Explore each room, open locked doors, look for clues to find out the truth
2. Listen: Don't just rely on your eyes! Listen carefully to the sounds around you. The ghost makes a sound when it approaches.
3. Escape: Hide and seek, even if you are found by a ghost, don't be afraid, you still have a chance to survive. run now!
4. Hide: You can find a hiding place, hidden in a closet or under a table. Don't be chased by her or you will die, find a way to survive.
5. Trick: Attract her by breaking a vase or cup, then use the opportunity to explore other areas.
6. Fight back: Don't want to hide anymore? Collect taser parts to assemble and make her disappear.
Endless Nightmare 6 Mod APK Release Date
At present, there is no official release date for the sixth part of this game, but some players broke the news that in April this year, that is, this month, the sixth of this game will be available for play!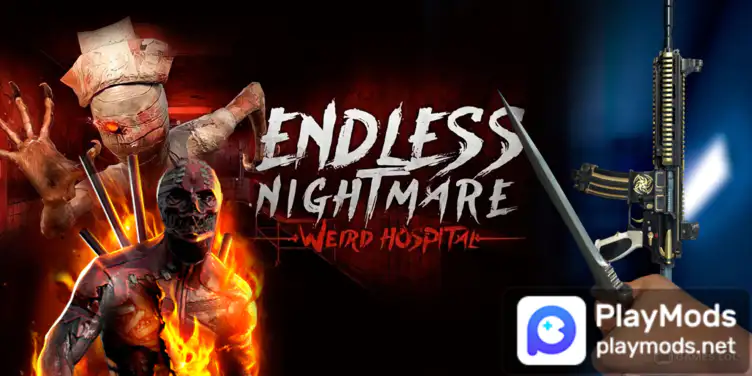 Endless Nightmare Mod APK Game Features
1. Fascinating horror stories, horrifying cases, appalling truths, experience the thrill of solving crimes Multiple endings, unlock different endings
2. Multiple difficulty modes to improve courage
3. Avoid scary ghosts, exciting and fun
4. 3D design and exquisite graphics, giving you the most realistic visual horror experience
5. Horror music, creepy sounds and thrilling atmosphere, please wear headphones for a better experience
If you like this game, then you can also try Garten of Banban 2 MOD APK
Search playmods for more mod games: www.playmods.net