Activision released Season 2 of Call of Duty: Warzone Mobile, along with several new features in the game. Let's see what's new together!
Call of Duty: Warzone Mobile Mod APK latest update contains many new features such as Battle Pass, Weapons, Operators and many more. Next, let us see how to download the latest version of this game!
How to Download Call of Duty: Warzone Mobile Mod APK
PlayMods has prepared the latest version of the game for players to download: Call of Duty: Warzone Mobile Mod APK
New battle pass
The new Battle Pass contains 100 tiers spread across 20 different areas. Each division offers five types of rewards. Players will receive a B0 Bonus Sector immediately after purchasing a Battle Pass. By completing all the above sectors, you will be able to reap great rewards. The biggest prizes include three new weapons and an Operator named Daniel "Ronin" Shinoda.
Operator: Ronin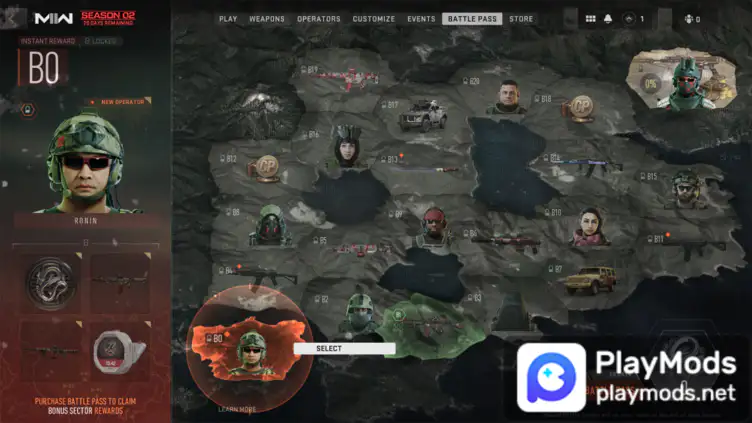 Assault Rifle: ISO Hemlock
Shotgun: KV Broadside
Melee: Dual Kodachis

In this update, Call of Duty: Warzone Mobile supports two new language options: Spanish and French. Let more players experience this wonderful game. Activision also announced an upcoming update for COD: Warzone Mobile Season 2, which includes many new missions, challenges, bundles, MP and BR playlists, and more configuration options.
If you like this game, you can also try PUBG Mod APK
Search playmods for more mod games: www.playmods.net