Call of Duty Warzone MOD APK 2.0 Season 3 started on April 12th! Let's take a look at the Season 3 update and see if there's any new features you've been hoping for!
How to Download the Latest Version of Call of Duty Warzone MOD APK
Click the download link prepared by PlayMods for players to download the latest version of this game: Call of Duty Warzone MOD APK 2.0
Call of Duty Warzone 2.0 update date
The major Season Update for Call of Duty Warzone MOD APK 2.0 launched on April 12, 2023 on multiple platforms worldwide.
Call of Duty Warzone 2.0 Season 3: Key Highlights
1. Two new Operators, Alejandro Vargas and Valeria Garza, are confirmed to join Warzone 2.0 Season 3.
2. Battle Pass victories will reward players with these two Epic Operators from the Modern Warfare campaign.
3. Brings many new features to the players' favorite DMZ mode.
4. The one-shot sniper rifle that is popular all over the world will return to meet the needs of players in the competitive battlefield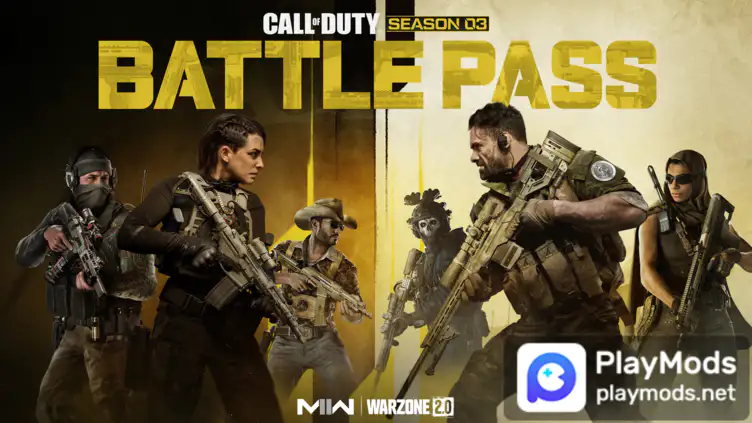 Call of Duty Warzone 2.0 Season 3: New Operators and Weapons
1. According to Activision's blog, brand new Operators Alejandro and Valeria will drop into Warzone 2.0 this season as protagonists, and those who complete the Premium Pass will unlock these two playable Operators as Battle Pass rewards.
2. As for weapons, the Season 3 roadmap revealed that the rebranded FJX Imperium sniper and Cronen Squall battle rifle will be available this new season. Call of Duty Warzone Mobile leaks reveal that gamers can look forward to two more automatic weapons.
3. 12 skin variants to unlock in this new battle pass, including the Alejandro and Valeria operator skins. Expect more valuable and unique items in this seasonal update.
Call of Duty Warzone 2.0 Season 3: New Game Modes
1. Mass Revival Mode: AI Mazrah's mass revival mode has been improved in the Season 3 update. In this super squad battle royale mode, 150 players will be thrown into battle against each other until eventually a squad stands its ground.
2. WZ Ranked and Plunder Modes: Plunder and Warzon Ranked modes will arrive in new seasons in a few days or weeks, and more details about map updates for these two game modes have yet to be determined.
3. Demilitarized Zone Mode: A new introduction to DMZ mode including Barter, Workbenches, Active Slots, New Backpacks, and New Missions. In the restricted area, players can barter with other players through "recipes" to obtain weapons that best suit their needs. Gear that can be obtained from battles includes racks, backpacks, killstreaks, self-resurrection kits, and keys. Another big change to DMZ mode is the new workbench. A workbench feature with a cash payment requirement enables COD players to equip or disarm any attachments on their weapons. In addition, for players who want to switch operator skins smoothly, the three active slots can bring them intuitive game control.
Call of Duty Warzone 2.0 Season 3: New Map Update
The map update in Warzone 2 and MW 2 Season 3 includes a refreshing set of changes to the Gunplay and MP maps.
Modern Warfare 2 Season 3 Gunfight Maps
1. Blacksite - A blacksite from Warzone
2. Exhibit - Museum
3. Shipment
4. Alley - Akdhar Village
Modern Warfare 2 Season 3 MP Maps
1. Pelayo Lighthouse (6v6)
2. Black Gold (6v6)
3. Sattiq Cave Complex (battle map)
4. Rohan Oilfield (Battle Map)
5. Alboran Hatchery (mid term)
If you like this game, you can also try Fortnite Mod APK
Search playmods for more mod games: www.playmods.net