Genshin Impact Mod APK is one of the most popular adventure MMORPG games of all time. Beyond that, some players have often expressed disappointment with Genshin's Gacha system. It's really hard to wish for something worth trying. So an indie developer called Sketchi made and released a game called Silly Wisher for Genshin Impact. It's an interesting game because it brings interesting features to the player.
How to play Silly Wisher for Genshin Mod APK
The game allows the player to customize his character and grant him or her unique abilities. You can also earn rewards by completing quests and challenges and participating in weekly events with other players. In Silly Wisher, players can combine multiple characters into completely different characters. Speaking of in-game currency, it has Freemogems, similar to Genshin Impact's Primogems. Although, you have a lot of Freemos from the start. The other resource in the game is Pink n' Blue Ballz, which is what you need to roll and draw 4 or 5-star characters in Silly Wisher. Thankfully, the game's Gacha system is very generous, as it ensures that every 10x wish has a character in it. Also, even if you run out of Ballz, you don't have to worry because you can exchange 10x Ballz (Wish) for 1600x Freemogems.
There are some rewards that need to be obtained by watching advertisements. If you don't want to watch advertisements, you can download the cracked version of the game prepared by PlayMods for players. Players can have money without playing and get rewards without watching ads: Silly Wisher for Genshin Mod Apk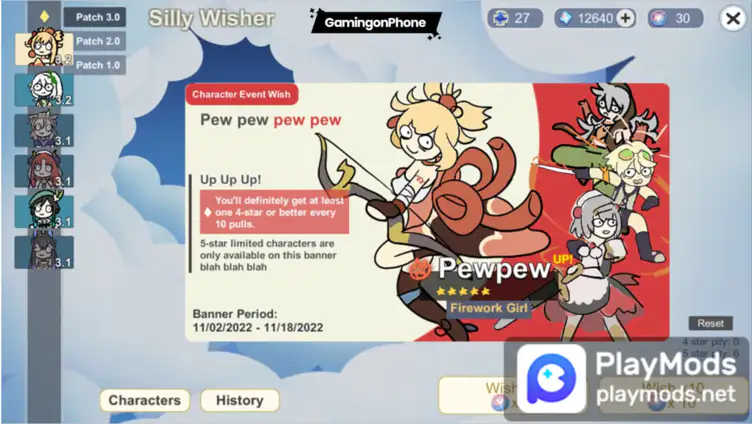 Silly Wisher for Genshin Mod APK Features
1. All past limited banners can be pulled up.
2. Gene splicing! Mix 2-4 characters together to create your own.
3. A character card maker based on Enka.Network.
4. Fight with the character you made.
5. Frequent updates with new characters and meme art.
Silly Wisher's combat system, like the entire app itself, is super wacky, wacky, and borderline damned. However, it's the weirdness that makes it interesting. All the player has to do in the game is press their character's attack button and the slime will take damage.
Though slimes won't even fight back against characters so there's no way to lose the game. Players can also switch characters mid-battle like in Genshin Impact. And with the continuous influx of normal attacks, the skill bar will gradually fill up, and once filled, it can be used.
If you like this game then you can also download Talking Juan Mod Apk
Search playmods for more mod games: www.playmods.net