Terraria Mod Apk is a 2D sandbox game. Its gameplay revolves around exploration, building, crafting, combat, survival, and mining and is playable in both single-player and multiplayer modes. After completing the character customization, the player will enter a randomly generated pixel world. The tools in hand mean that the player needs to build things, explore the world, and defeat monsters. This game may be a bit difficult for beginners, but don't worry, the game will guide you through the game. Although the game has no realistic story background or epic tasks, the fantasy colors and settings in the game are quite fascinating. The entire game world is destructible. After destroying certain obstacles, you can find various resources such as stones, wood, iron ore, or other equipment. Of course, as you continue to go deeper, you will also encounter various monsters. The main task of the game is to allow players to use various resources to create all kinds of weird things according to their own ideas, all of which make players full of motivation to explore. The gaming pixel game experience makes many players think of Minecraft Mod Apk.
Next, I will introduce two popular mods for you.
Builder's Workshop
This mod contains all placeable items and all NPCs in the current game. Most armor, tools, weapons, and accessories have at least four copies. And there are a lot of empty flat spaces in the mod. The only thing in this world other than your generated buildings is flat ground. It starts slightly underground and continues down into hellish places. If you load it up on a map viewer, it's the most boring world in existence. You can now build your entire adventure here and move it to the map of your choice.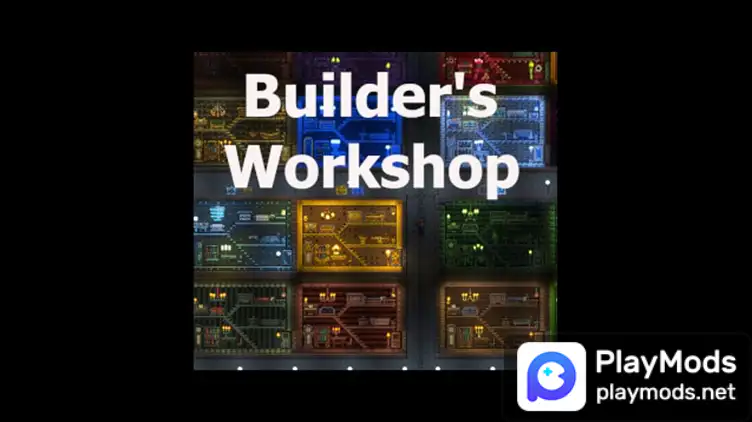 Terraria Character Pack (Players+Worlds)
This mod contains more than 50 pre-made characters for players to use in the game. These categories are Movies, Manga and Manga, and Video Games etc. And the characters in this mod are equipped with tools/weapons/items that match their theme.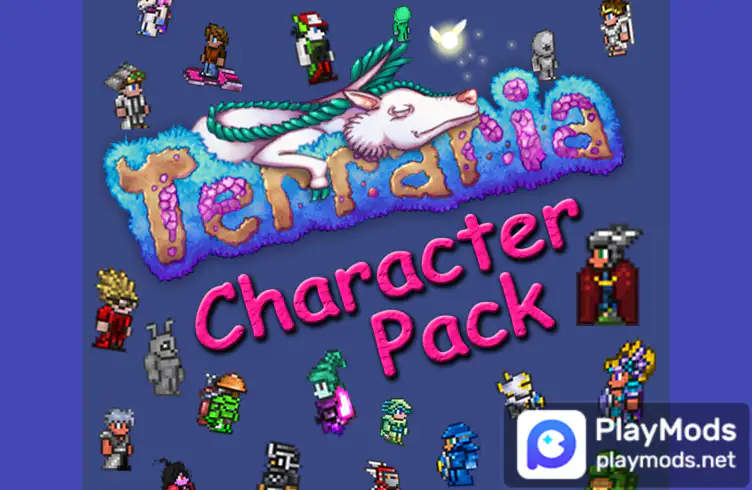 Worlds mod contains a fully furnished base. Inside there are themed rooms for NPCs. Other NPCs have moved in that usually don't appear at the beginning of the game and require the player to explore the world a bit to activate.
Free Download
The game costs 4.99 dollars on Google Play, and 9.99 dollars on Steam if players want to experience it on a computer. PlayMods provides players with a free mod version of this game: Terraria Mod Apk (Mods inside)
How to Activate Mods
1. Open Terraria Mod Apk after downloading the mod provided by PlayMods. Click the PM icon.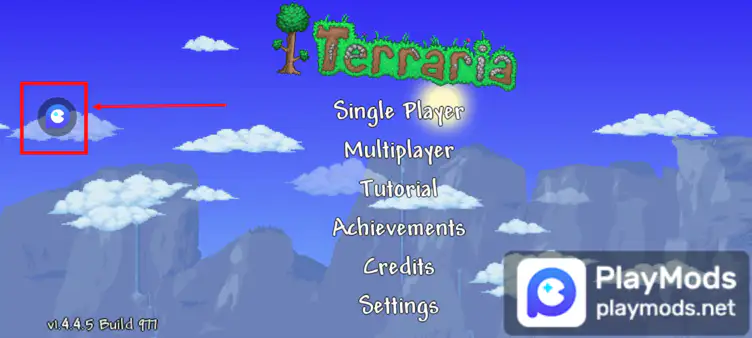 2. A mod information will appear, you can click to view the mod you want and download it. Click "on".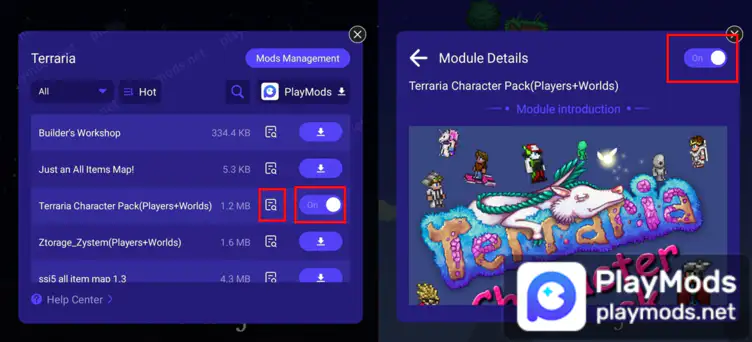 3. Next, start the game, you will see that you have activated the mod you want.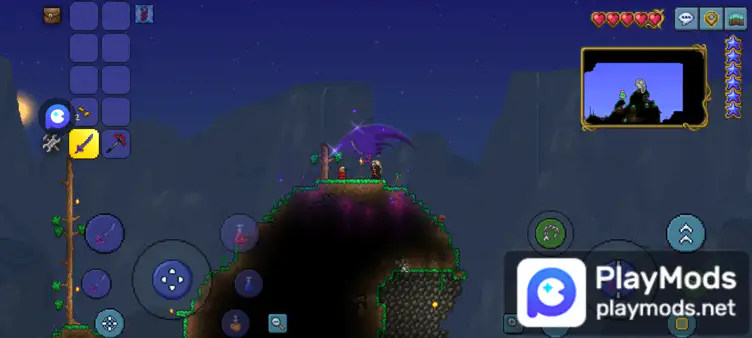 *Please exit the map before stopping or deleting the mod. When your installation fails, please check whether the same game already exists in your phone. If there is, please uninstall it first. When uninstalled, the local archive will be cleared. After uninstalling, try reinstalling. Please check if the phone memory is sufficient. If it is not enough, please clear the phone memory first, and then try to install.
Search playmods for more mod games: www.playmods.net