Cairo 2022 Again! - Official Trailer - Subway Surfers
Many players may already know that the next update is about the 2022 World Cup. From the video, we can see that in the next update, we will leave Luoyang and come to Cairo, Egypt again. This is a special new update, and Cairo is already the second update of 2022. I believe that many people can't wait for the next update. Subway Surfers officially updated the new trailer on Twitter yesterday on all major platforms. Many players speculate that the next update may be v3.3.2, and I am not sure whether this news is accurate. The specific version will not be known until the game is officially updated. Don't worry about missing any news, because Playmods will update the latest news and download methods for players as soon as possible.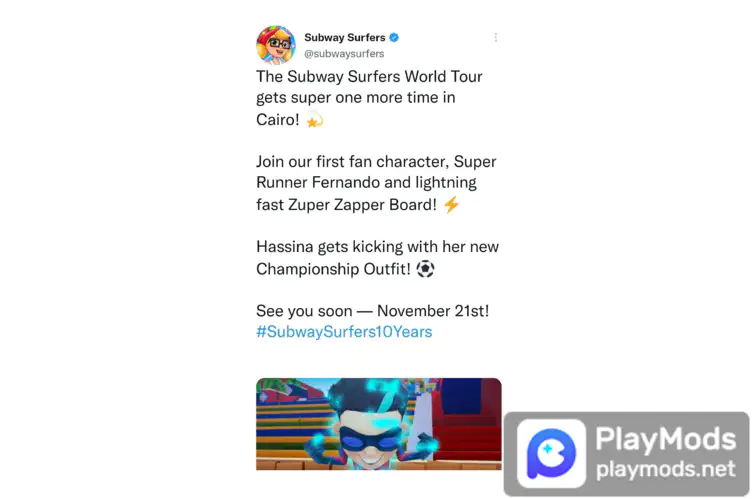 New Game Content that May be Updated
1. Complete the Super Runner Staged Challenge and unlock our first fan character, Super Runner - Fernand and his lightning-fast skateboard, the Zuper Zapper!
2. Hasina kicks off the season with a new athletic look in her new championship suit.
3. Return to Berlin for the Marathon Challenge.
4. Cairo scene
The Latest Version Download
Can't wait to play the latest version? Playmods has prepared the latest version cracked version for players: Subway Surfers Mod Apk v3.3.1 (Mod Menu)
In this version, the game content of Luoyang, China has been updated. For specific update content, please click the link below to read the article I updated for players.
Feel the Beauty of Luoyang in Subway Surfers: New Character - Song Yi
Cracked Contents
1. Invincible
2. No Ads
3. Continuous jump
4.30 point multiplier
5. Unlimited gold coins
6. Unlimited keys
7. Unlimited Skateboard
8. Unlimited props
9. Unlock all characters
10. Game acceleration
More game latest news can be found in Playmods: www.playmods.net