Hi! Dear friends, do you know multiplayer online battle royale games? At first, the battle royale refers to a game mode that in a specific survival area, many players kill each other by picking up weapons in the area to determine the final winner. But in 2020, with the advent of the game Fall guys, the definition of a battle royale game has been broadened. In this battle royale game, there are two representative games, namely fall guys mod apk and stumble guys mod apk. So many friends are curious, what is the difference between these two very similar games of the same type? And which is better and which is worse? Let's dig out!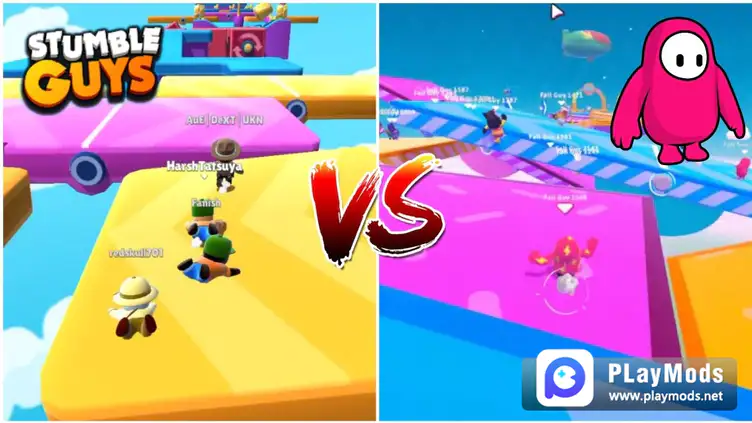 Development time and platform
The stumble guys mod apk is developed and published by Kitka Games and the first release date is February 12, 2021. And the release process of fall guys mod apk is rather bumpy. It was developed by Mediatonic, published by Devolver Digital, and released on Microsoft Windows and PlayStation 4 platforms on August 4, 2020. Originally scheduled to be released on the Nintendo switch platform and Xbox One platform in the summer of 2021, it was later delayed due to the developer's acquisition by Epic Games, and was removed from Steam (purchased to continue playing), and switched to Epic's side on PC. related platforms. Later, it was officially confirmed in May 2022 that it will be launched on the NS, XONE platforms and the already launched game platforms as a new version of "fall guys: Free for All" (Fall Guys: Free for All), which will be launched in June 2022 Released on the 21st with the PlayStation 5 and converted to a cross-platform free-to-play game, on July 6th of the same year, "fall guys" announced that its player count exceeded 50 million. (Fall Guys related information comes from Wikipedia)
Fall Guys mod apk is available on all consoles: PlayStation, Xbox and Nintendo Switch, as well as PC. And Stumble Guys mod apk is only available for PC and mobile devices.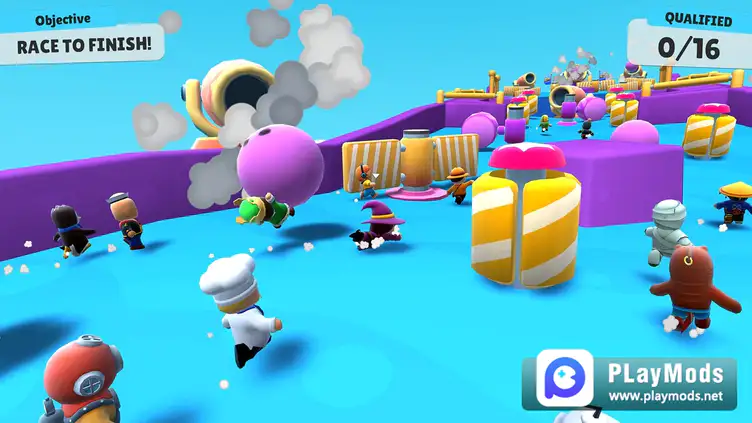 Character image and screen color
The character of the stumble guys mod apk is a Q version little guy, and the actual character design of fall guys mod apk is inspired by the appearance of the vynal toy, which is a jellybean shaped little guy. As for the use of picture colors, we can clearly feel that the tone of the picture of stumble guys mod apk is white, while the picture of fall guys mod apk has a pink tone, which gives a completely different visual effect.
level design
Although there are many similarities between and fall guys mod apk in the design of the levels, but after all, the two are different games, so there are still differences. The specific difference, players can feel byplaying the two games. Below we have provided a comparison video of the two games as a reference.
Do you still want to play more interesting games, you will find more fun in these websites below, click to for more details: