Raft Survival Ocean Nomad is an open-world survival game. In the game, a mysterious disaster has completely flooded the world. When your flight across the world is shot down by an unknown assailant, you are forced to fight for survival. Players will build a raft of their own and explore nearby deserted islands.
This is a very interesting survival game. PlayMods also prepares a cracked version of this game for players. Players can experience a lot of cracked content and have a more interesting gaming experience: Raft Survival: Ocean Nomad - Simulator Mod Apk (Mod Menu)
Cracked Contents
1. Unlimited Money
2. One Hit Kill
3. God Mode
4. Free Craft
5. Unlock sandbox
6. Unlimited resources
7. Unlimited ammo
8. Maximum level
9. No energy consumption
10. No ads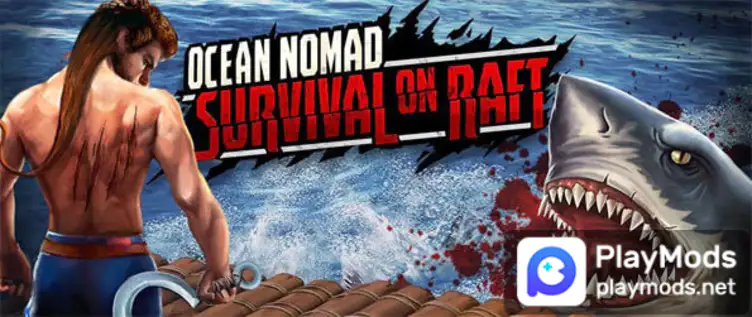 If you're looking for the best way to survive, then plz keep on reading this article.
1. Find useful material
You start the game with a hook that you can use to fish different kinds of materials. You'll catch all types of things like logs, thatch, etc. Always get the hook out and keep fishing when you have some free time. You'll find storage containers such as boxes, crates, and barrels. These containers always have random items, so it's important to fish them out as soon as you see them.
2. Meet basic needs
In this survival game, you need to find ways to meet basic human and physical needs. You'll be hungry, you'll be thirsty, and you'll need to manage your health. Over time, you will become hungrier and thirstier. Additionally, weather conditions will affect your quest for basic resources. Don't worry, because you'll find bottled water and canned goods in crates or barrels. But you will mostly rely on nature to survive. The net will catch the fish, which you can cook over the campfire. There is also a rain catcher to catch water for you. Make sure you have your food and water ready in advance as these take time. Complete these processes before you get too hungry or thirsty. Otherwise, you will not survive.
3. Attack other rafts
Another thing you can do is attack other people's rafts while exploring the island. If you succeed, you can loot their items and equipment. But you need to be careful because they will seek revenge and get back at you.
If you like survival games, then the following two games must be suitable for you.
Search playmods for more mod games: www.playmods.net