PUBG MOBILE Mod Apk
is a battle royale shooting game. Each area has its unique weapons to collect.
PUBG MOBILE Mod Apk v2.3.0
has a brand new map in its latest update. This update is full of new features, which includes the Nusa zipline and elevator, which players can use to climb buildings and high places. NUSA will also be the seventh battle royale map after Erangel, Livik, Vikendi, Miramar, Sanhok, and Karakin.
What's new in Nusa Zipline & Elevator
NUSA has a functional elevator that transports players between floors of high-rise buildings. There is also a swimming pool there, swimming can help the player heal. Players can also discover weapons in containers and use the NUSA zipline to travel across the map.
Also, Nusa Zipline has added a brand new feature to the PUBG MOBILE Mod Apk. In Super Recall, if a player dies within the first 4 minutes of the game, while his teammates are alive, they can be revived with a random weapon. Super Recall will automatically revive players in single-player mode.
How to Use Zipline and Elevator
Zipline brings many benefits and interesting features to the players. The addition of ziplines makes the game even more fun. Below I describe some ways to use the zipline and elevator.
How to Use Zipline
Players can use ziplines to quickly travel between these high-altitude areas, usually on building rooftops or mountain tops. Players can quickly find supplies. When being chased by an enemy, use the zip line to escape from the opponent. Ziplines in PUBG can also be destroyed. Players can use ziplines to quickly traverse and then dismantle them to stop attackers from pursuing them. Attacking the right spot is key for damaged ziplines, as intruders may attempt to repair them.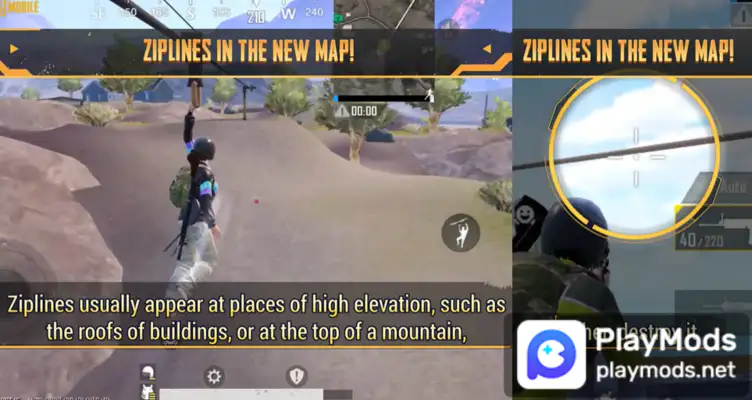 How to Use Elevator
If you want to move quickly between floors then take the elevator. The tallest buildings on the NUSA map have elevators. Players can use elevators to quickly ascend to rooftops during combat to stop enemies approaching from below. Even better, you can wait in the elevator to sneak up on your opponents and eliminate them by surprise.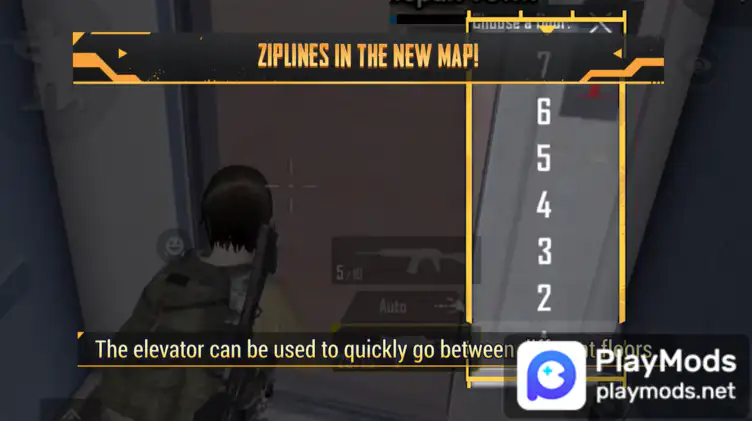 Search playmods for more mod games: www.playmods.net