Kuma Sushi Bar Mod Apk is the latest restaurant management simulation game from Hyperbeard. Hyperbeard is the creator of Pocket Love, Tsuki's Odyssey, and Adorable Home. Players will play the cute bear Kuma to inherit the family business. This cute restaurant simulation game uses kawaii hand-painted visual effects, and the simple and easy gameplay also brings players a casual game effect.
Free Download
As one of the most popular restaurant simulation games at the moment, are you worried that you don't have enough money to decorate and upgrade your restaurant? Don't worry, PlayMods provides players with an unlimited currency hack version of this game, players can buy and upgrade the equipment in the restaurant at will: Kuma Sushi Bar Mod Apk (Unlimited Currency)
How to run a restaurant well? Next, I will bring some skills of this game to the players, so that the players can quickly make them perfect.
1. Fix the Table ASAP
The dilapidated sushi bar inherited from your grandpa needs a serious fix. The first thing you should do is clear the table because your customers need to sit down and eat before they can devour their delicious food. The more tables you have, the more customers you can serve.
2. Attract Customers
Players can attract more customers by clicking on the flyer in the lower right corner of the screen. Tap the flyer multiple times to attract customers to your restaurant. Flyers are also the best way to attract new customers.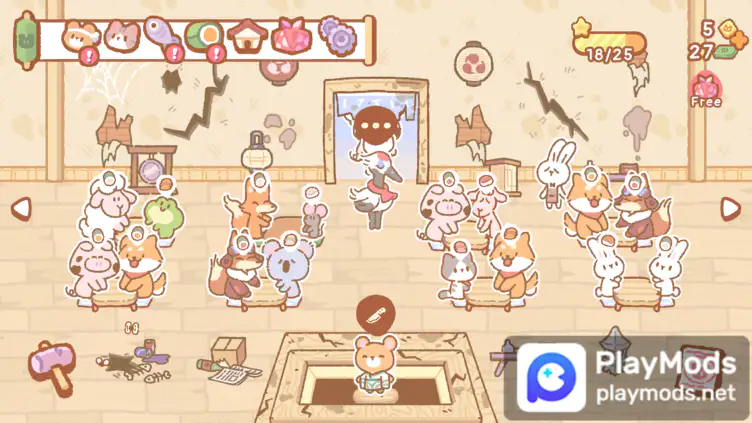 3. Prepare Dishes for Customers
Once you've attracted customers to your restaurant, it's time to serve them delicious maki sushi and sashimi! There are two ways to provide food.
1. Click on the food item above the customer's avatar. Wait for the timer to finish preparing, and once he's finished eating the food, he pays the coin.
2. Tap the chef's knife above your character in the bottom center of the screen to play a cooking mini-game.
4. Activate Fast Cooking
Click on the dishes above the customers to serve them food, but it will take some time to finish serving them the dishes. Speed up serving time by hitting the "Quick Cook" button.
5. Upgrade Ingredients and Dishes
Upgrade delicious sushi dishes and toppings. Upgrading ingredients reduces prep time, ensuring faster cooking and serving while upgrading dishes increases prices.
If you like this game, then I will recommend several similar games to you.
Pocket Love Mod Apk (Mod menu)
Adorable Home Mod Apk (Unlimited currency)
Search playmods for more mod games: www.playmods.net