Sigma is a survival battle royale game. It garnered more than 500,000 downloads in less than 48 hours after its Brazilian and global beta launch. Players will join a battleground with 50 players. Your job is to find armor and supplies, fight enemies, and survive to the last. You can fight alone or with your friends in a team of 4. This game is very similar to Free Fire Mod Apk. The new game has been the talk of the game among players, especially the Free Fire community, in recent days. This game was released on PlayStore but has now been removed from there. Don't know where to download this game? Don't worry, PlayMods has surprises for players!
Free Download
Although this game can no longer be found on the PlayStore, PlayMods has prepared a free download for all players: Sigma Mod Apk
How to Download
Users of PlayMods can download it through the official PlayMods app, here's how.
1. Open the PlayMods app and search for "Sigma"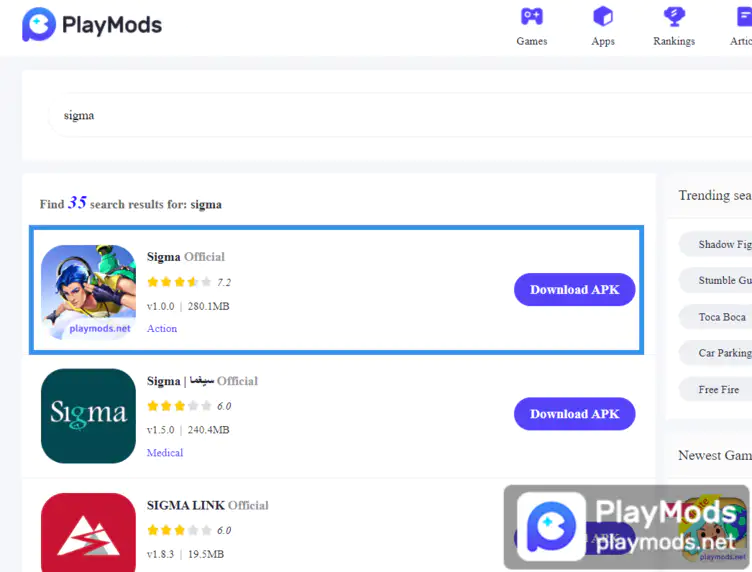 2. Find "Sigma Official" and click to enter the download page. Choose the download method you want and download.
Or you can click the link I provide you with above to download.
This game is a great choice for lovers of battle royale games, and while the game might not be as comprehensive as Fortnite Mod Apk, it's still a great game in its own right. Its maps are detailed and varied, from grasslands to cities and forests. Each environment is full of obstacles and you must use your skills and wits to survive. It features a wide variety of weapons and gear, including assault rifles, sniper rifles, medkits, and flashbangs. There is no shortage of variety when choosing your gear, allowing you to adapt to any situation.
Sigma Mod Apk Features
1. An open world. The game is set in an open, expansive world filled with all kinds of terrain and obstacles you may encounter. You can also interact with your surroundings in a variety of ways, from climbing to driving vehicles.
2. 4 vs 4 battles. You can form a team of four players and use your skills to take down your opponents. Make sure you have a synergistic team to succeed in these intense battles.
3. Choose Single-Player, then you will play against 49 other players. You'll have to collect gear, use strategic tactics, and outsmart your opponents to stand out.
Search playmods for more mod games: www.playmods.net