Fortnite Chapter 4 Season 4 goes live now! A tonne of new season content is coming to meet global players! Outfits, weapons, items, and more. Watch the gameplay trailer to preview what you can expect from this major season update! Watch the Fortnite Chapter 4 Season 4 update gameplay trailer and preview some highlights of this new season!
How to Download Fortnite Mod APK
Click the link to download the game: Fortnite Mod APK Download
When Did the Gameplay Trailer Reveal
Fortnite Chapter 4 Season 4 Gameplay Trailer has just been revealed! Epic Games finally launched the highly-anticipated Chapter 4 Season 4 update on 2023/08/25 at 3 a.m. (ET.).
A bunch of content updates and a lot of Improvements are made by developers and this is a major season update you should never want to miss out on! New emotes, outfits, pickaxes... A wide range of new things are introduced in this new season, entitled LAST RESORT. Now let's take a first look at what new content is included in this new season update!
Fortnite Chapter 4 Season 4 Update: Mystic Weapons
As for the weapons and firearms, Fortnite players can expect a lot in this new season update.
5 Exciting New Weapons Will Make Their Debuts in This New Season
We've got you a list of the new batch of new weapons coming to the Fortnite Chapter 4 Season 4 update! Read to learn the unique skills of each weapon and make sure you get the most out of them in each battle!
Rocket Ram
1. Launch enemies into the air. If you want your opponents to be sent flying, Rocket Ram is the best pick!
2. Anti-building sorts of weapon. Rocket Ram only takes a little time to break down buildings or any other structures. Players can use it as a handy tool to destroy any map buildings they want with ease!
3. Rocket Ram is a ramming-head-like weapon with no explosives involved.
4. Unlock this intriguing weapon in Fortnite 4 Season 4 "Heist".

Fortnite keeps adding new powerful weapons so that players can always unlock fresh new, iconic weapons from their arsenals to toy with. Three more upcoming firearms you should not miss included:
1. Infiltrator Pump Shotgun
2. Scoped Burst SMG
3. Twin Mag AR
To get a significantly faster gun reload experience, Twin Mag AR is your perfect choice. Load ammo into the magazine instantly to get you some boost during an intensive gunfight.

Business Turret
1. Hand-cranked weapon. Man-portable and causes large damage.
2. Place the Business Turret down on the ground and set a timer to complete a remote attack and enhance your survivability.

Many other weapons are set to release in this new season update:
1. Kinetic Blade
2. Shield Breaker
3. Midas' Drum Gun
4. Kit's Launcher & Charge Shotgun
5. Ocean's Chug Jug
6. Foundation's MK-7
7. TNTinas Ka-Boom Bow
8. Zyg and Choppy's Ray Gun
9. Gunnar's Stinger SMG
10. Pulse Rifle
11. Havoc Pump
12. Overclocked Pulse Rifle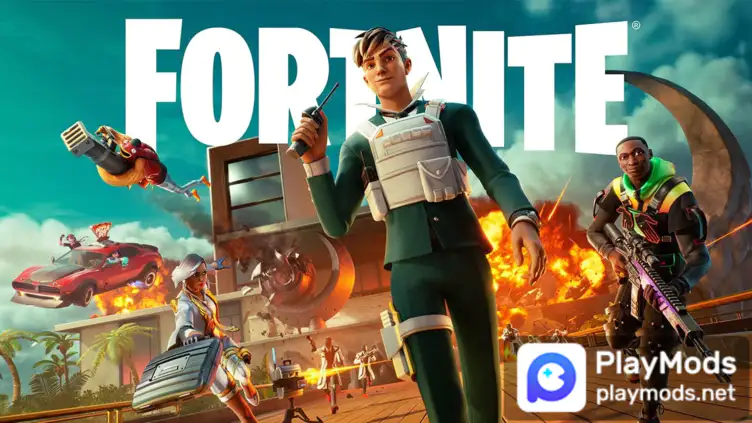 Fortnite Chapter 4 Season 4 Update: Battle Pass Outfits
1. Nolan Chance
2. Piper Pace
3. Fish Thicc
4. Mae
5. Antonia
6. Khaby Lame
7. Kado Thorne
8. Ahsoka Tano
If you like this game, you can try the games below.

Search playmods for more mod games: www.playmods.net