As if Huggy Wuggy and Mommy Long Legs weren't scary enough, Project: Playtime has a new monster now - Boxy Boo. Boxy Boo is an upcoming new character in Project: Playtime and many players speculate that this could be the main villain of the game. While Boxy Boo was teased countless times in Rowan Stoll's computer database before the game was revealed, the new character was well-received by players after the trailer was released.
The Appearance of Boxy Boo
Boxy Boo is a vibrant, colorful box toy. The main body is a light blue square box with gold patterns on each side: a square, two parallel stars and two circles, and a heart. There is also a clockwork crank directly above one of the circles. With the exception of the stars, each shape opens up the inside of the box to reveal each crimson body part. The feet and head are cube-shaped, and its "fur" is red. Boxy Boo's eyes are big and round, just like Huggy Wuggy's. It had claws on its feet and hands and had curved, sharp teeth. Its limbs are crimson metal springs that can reach great distances.
Boxy Boo's Skill
Boxy Boo appears to be one of Project: Playtime's optional villains. It's not entirely sure what skills Boxy Boo has, but based on short clips and speculation, Boxy Boo can jump off steep ledges with no consequences.
Project: Playtime Introduction
Project: Playtime is an upcoming multiplayer game based on its single-player Poppy Playtime Mod Apk. The asymmetrical survival horror game, set for early access on Dec. 6, will pit six Playtime Co. employees against a monster as they attempt to build a giant toy and escape the factory.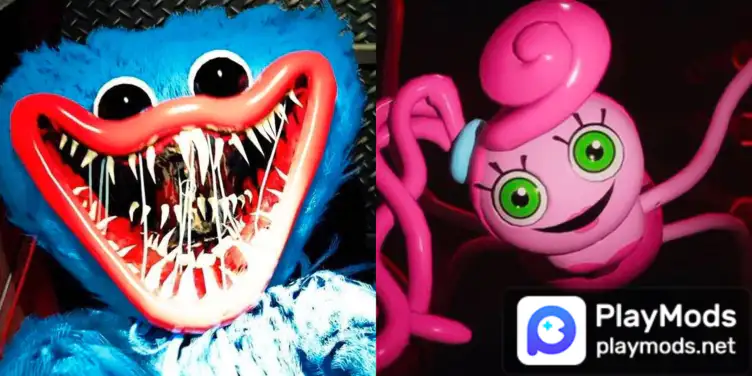 In the new movie trailer and the Project: Playtime Steam page, two familiar faces appear as playable monsters: Huggy Wuggy and Mommy Long Legs. Interestingly, they're accompanied by Playtime Co. newcomer Boxy Boo, and an otherwise rather mysterious character.
Because Poppy Playtime Chapter 3 has not been officially launched yet, many players speculate that there is a great possibility that Boxy Boo will appear in the third chapter. PlayMods will also provide players with a cracked version of the game as soon as the game is online.
If you haven't played Poppy Playtime yet, you can download it from the links below. PlayMods has prepared cracked versions for players so that players can easily pass the game.
Poppy Playtime Chapter 2 Mod Apk (Mod Menu)
Poppy Playtime Chapter 1 Mod Apk (Mod Menu)
Search playmods for more mod games: www.playmods.net