Cookie Run Kingdom Mod Apk Redemption Code is a coupon shared between the developer and the players. Players can redeem these Cookie Run codes on the Devplay website and receive rewards in the in-game mailbox. Following a fruitful collaboration with BTS, Cookie Run Kingdom provided various codes in thanks for the huge success of the Braver Together campaign. I will provide players with a complete list of all the latest Cookie Run Kingdom Mod Apk codes for December 2022 to redeem CRK codes for crystals and other in-game rewards.
All Valid Codes
POCKETGAMERAWARD – 3,000 Crystals and 1,000 Rainbow Cubes *NEW
FOLLOWINGINLATAM – 2,500 Crystals
CRKINGDOMWITHBTS – 3,000 Crystals and 1,000 Army Bombs
1015CKCOOKIELIVE – 2,500 Army Bombs
THANX200MPLAYERS – 2,000 Crystals and 2,000 Rainbow Cubes
If you don't know how to redeem, then this FAQ will help you figure it out with step by step instructions.
How to redeem on Android
Launch Cookie Run Kingdom on your device. Click the menu button in the upper right corner, then click the "Coupons" button. You will be redirected to the Devplay site where you can redeem your Cookie Run Kingdom code.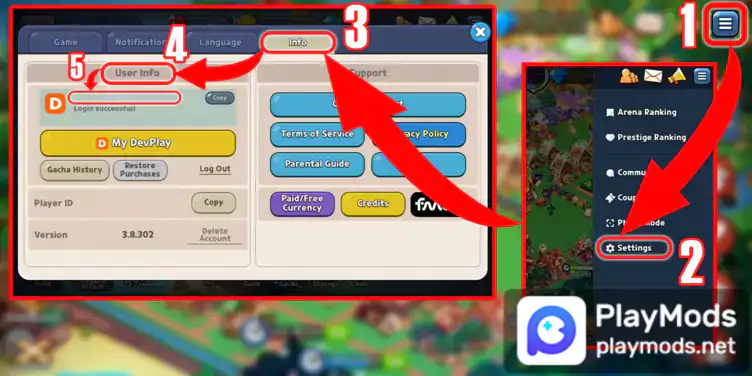 1. Enter your Devplay account or bind your email address (check game settings -> information)
2. Enter the coupon code
3. Click the claim reward button to redeem the code
4. Enter the game
5. Check the in-game mailbox to receive code rewards
How to redeem on iOS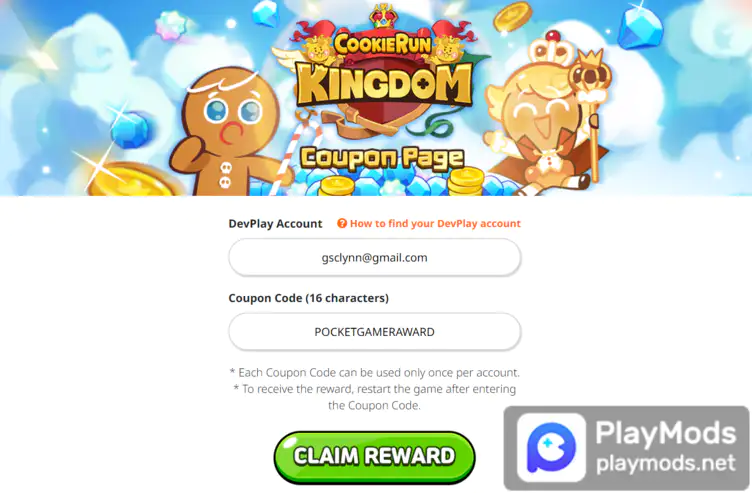 1. Copy the coupon code from the list above
2. Navigate to the official coupon redemption Devplay website.
3. You need to fill in your DevPlay account (linked email address) and a valid coupon code.
If you want to experience more popular games, you may wish to download the following games to experience.
Search playmods for more mod games: www.playmods.net